Toksisitas Akut Ekstrak Etanol Daun Rumput Knop (Hyptis capitata Jacq.) dengan Metode Brine Shrimp Lethality Test (BSLT)
Keywords:
Toxicity, Hyptis capitata Jacq., Phytochemicals
Abstract
Informasi mengenai keamanan penggunaan rumput Knop (Hyptis capitata Jacq.) sebagai obat tradisional
masih terbatas. Uji keamanan melalui uji toksisitas penting untuk dilakukan sebelum dilakukan uji manfaat
lebih lanjut. Salah satu uji toksisitas akut yang dapat dilakukan sebagai uji toksisitas tahap awal adalah uji
toksisitas akut dengan metode Brine Shrimp Lethality Test (BSLT). Daun rumput Knop diekstrak dengan penyari
etanol dengan metode maserasi. Ekstrak etanol daun rumput Knop dengan konsentrasi 1000, 500, 250, 125 dan
62,5 µg/ml dipaparkan pada larva Artemia salina (L.) selama 24 jam. Tingkat toksisitas ditentukan berdasarkan
nilai LC50 yang diperoleh berdasarkan jumlah larva yang mati, melalui analisis probit. Kandungan fitokimia
ekstrak etanol daun rumput Knop diuji melalui uji fitokimia kualitatif. Nilai LC50 ekstrak etanol daun rumput
Knop sebesar 183,91 µg/ml. Ekstrak etanol daun rumput Knop mengandung alkaloid dan steroid.
References
Agustini., N. wayan S., & Setyaningrum, M. (2017). Identifikasi Senyawa Aktif dan Toksisitas Hayati Ekstrak
n-heksana, Etil Asetat dan etanol Mikroalga Tetraselmis chuii Secara Brine Shrimp Lethality Test (BSLT).
Warta Industri Hasil Pertanian, [online], 34(1), 8. Available from: https://doi. org/10.32765/wartaihp.v34i1.4063
Datar, M. N., Lakshminarasimhan, P., & Rao, P. S. N. (2007). Hyptis capitata Jacq. (Lamiaceae)-a new record for northern Western Ghats. Indian J. Forest, 30(3),355–356.
Khairiyah, N., Anam, S., & Khumaidi, A. (2016). Studi etnofarmasi tumbuhan berkhasiat obat pada Suku Banggai
di Kabupaten Banggai Laut, Provinsi Sulawesi Tengah. GALENIKA Journal of Pharmacy, 2(1), 1–7.
Marlinda, M., Sangi, M. S., & Wuntu, A. D. (2012). Analisis Senyawa Metabolit Sekunder dan Uji Toksisitas Ekstrak
Etanol Biji Buah Alpukat (Persea americana Mill.). Jurnal MIPA, [online],1(1), 24. Available from : https://doi.org/10.35799/jm.1.1.2012.427
Marraskuranto, E., Fajarningsih, N. D.,Januar, H. I., & Wikanta, T. (2008).Aktivitas Antitumor (Hela dan T47d)
dan Antioksidan Ekstrak Makroalga Hijau Ulva fasciata. Jurnal Pascapanen Dan Bioteknologi Kelautan Dan Perikanan,[online] 3(2), 107. Available from : https://doi.org/10.15578/jpbkp.v3i2.21
Mondong, F. R., Sangi, M. S., Kumaunang, M., & Herb, L. (2015). Skrining Fitokimia dan Uji Aktivitas Antioksidan Ekstrak Etanol Daun Patikan Emas (Euprorbia prunifolia Jacq.) dan Bawang Laut (Proiphys amboinensis ( L .) Herb ).Journal MIPA Unsrat, 4(1), 81–87.
Noer, S., Pratiwi, R. D., Gresinta, E., Biologi, P., & Teknik, F. (2018). Penetapan Kadar Senyawa Fitokimia (Tanin, Saponin dan Flavonoid sebagai Kuersetin) Pada Ekstrak Daun Inggu (Ruta angustifolia L.). Eksata: Jurnal Ilmu-Ilmu MIPA, 18(1),19–29.
Putri, M. K. D., Pringgenies, D., & Radjasa, O. K. (2012). Uji Fitokimia Dan Toksisitas Ekstrak Kasar Gastropoda ( Telescopium telescopium ) Terhadap Larva Artemia salina. Journal of Marine Research, 1(2),58–66.
Rafiqi, R., Arifin, B., & Hasnirwan. (2017). Aktivitas Antioksidan dan Kandungan Fenolik Total Berbagai Fraksi dari
Ekstrak Metanol Daun Melinjo (Gnetum gnemon L.). Jurnal Kimia Unand, 6(4),27–32.
Rohyani, I. S., Aryanti, E., & Suripto.(2015). Kandungan fitokimia beberapa jenis tumbuhan lokal yang sering
dimanfaatkan sebagai bahan baku obat. Prosiding Seminar Nasional Masyarakat Biodiversitas Indonesia, [online] 1,388–391. Available from: https://doi.org/10.13057/psnmbi/m010237
Rupa, D., Sulistyaningsih, C. Y., Dorly, D., & Ratnadewi, D. (2017). Identification of Secretory Structure, Histochemistry and Phytochemical compound of Medical Plant Hyptis capitata Jacq. Biotropia,[online] 24(2), 94–103. Available from:https://doi.org/10.11598/btb.201
Sarah, Q. S., Anny, F. C., & Misbahuddin, M. (2017). Brine shrimp lethality assay. Bangladesh Journal of Pharmacology,[online] 12(2), 186–189. Available from: https://doi.org/10.3329/bjp.v12i2.32796
Suryelita, S., Etika, S. B., & Kurnia, Nivi,S. (2017). Isolasi dan Karakterisasi Senyawa Steroid dari Daun Cemara
Natal (Cupressus funebris Endl.). Eksakta,18(1), 87–94.
Umaru, I. J., Badruddin, F., & Umaru, H.(2018). Cytotoxicity Brine Shrimp Activity of Leptadenia Hastata
(PER) Decne Leaves, Stem-Bark and Root Extract. International Journal of Biochemistry & Physiology, [online] 3(2), 1–8. Available from : https://doi.org/10.23880/ijbp-16000127
Yohana, S. P., Elis, T., Muhammad, R. U., & Andi, M. (2015). Identifikasi Tumbuhan Berkhasiat Obat dan Potensi
Pemanfaatannya Pada Beberapa Desa di Sekitar Gunung Sesean Kabupaten Toraja Utara. [Skripsi]. Universitas Hasanuddin, Indonesia.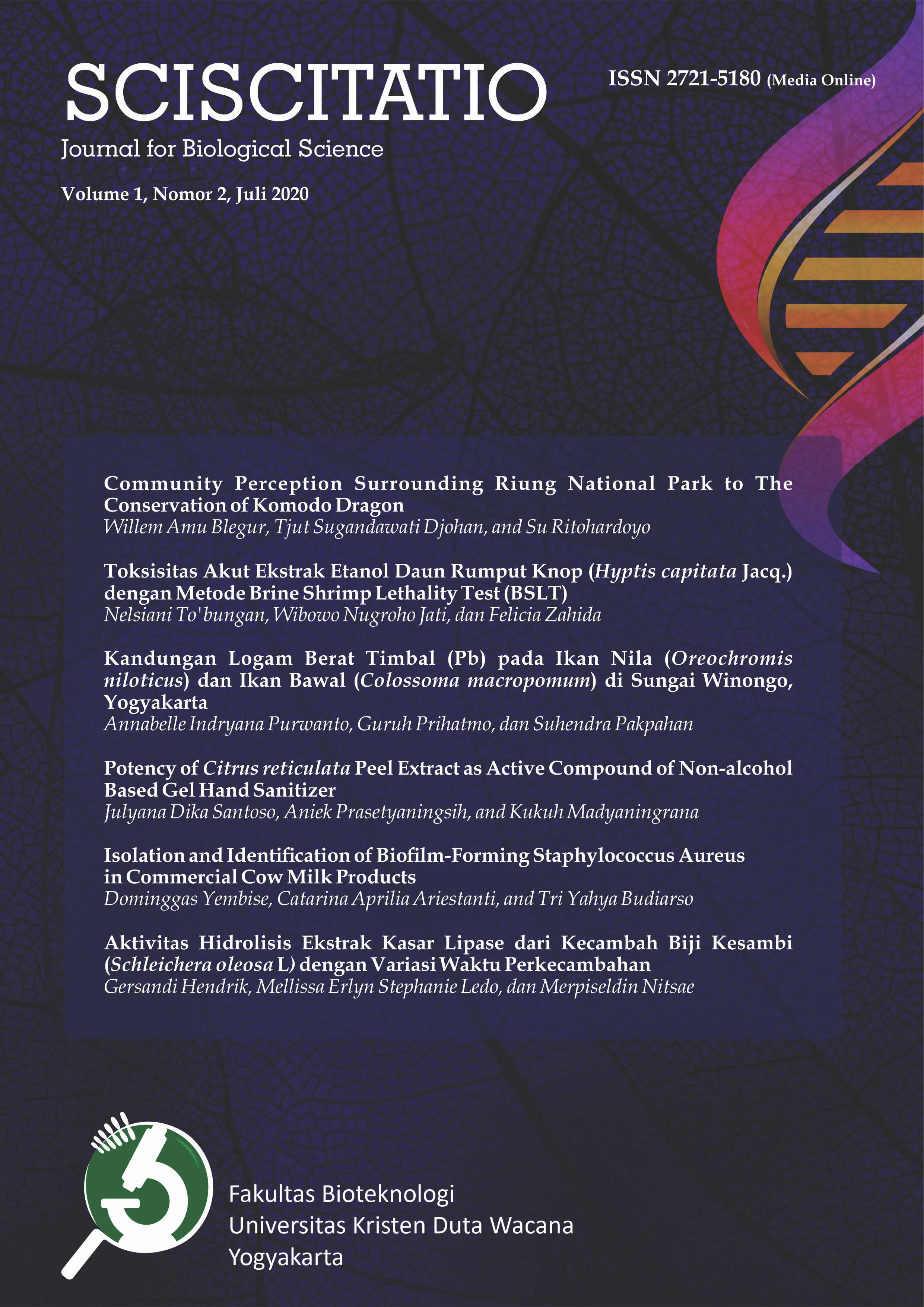 Downloads