Potency of Super Red Dragon Fruit Flesh Extract (Hylocereus costaricencis) in Herbal Lipstick as Colorant, Antioxidant and Antibacterial
Keywords:
dragon fruit, lipstick, colorant, antioxidant and antibacterial
Abstract
Lipstick is one kind of cosmetics which is used as lips colorant to increase self-confidence. Nowadays, lipsticks from natural source is popular to reduce the negative impact of chemical compound or synthetics colorant in lipstick intensively for health. Super red dragon fruit is one kind of natural ingredients which can be used as colorant for lipstick. Moreover, this fruit is rich of antioxidant and antibacterial component that is good for skin health. In this research, extract of super red dragon fruit flesh was added in the lipstick during preparation with variation of concentration 0, 10, 20, 30 and 40%. Antioxidant analysis resulted the IC50 value in 81.55% indicating the strong antioxidant properties. Furthermore, the concentration of dragon fruit extract 40% was able to inhibit the growth of Staphylococcus aureus bacteria.
References
Aher, A., Kadaskar, P. T., Bairagi, S., & Desai, S. S. (2012) Formulation and evaluation of herbal lipstick from colour pigments of Bixa Orellana (Bixaceae) seeds, International Journal of Pharmacy and Pharmaceutical Sciences, 4(5), 357–359.
Ang, K. K., Holmes, M. J., Higa, T., Hamann, M. T., & Kara, U. A. (2000) In vivo antimalarial activity of the betacarboline alkaloid manzamine A, Antimicrobial Agents and Chemotherapy, 44(6), 1645–1649.
Aydin, R. (2005) Conjugated linoleic acid: chemical structure, sources and biological properties. Turkish Journal of Veterinary Animal Science, 29(2), 189-195.
Azam, M. M., Waris, A., & Nahar, N. M. (2005) Prospects and potential of fatty acid methyl esters of some nontraditional seed oils for use as biodiesel in India, Biomass and Bioenergy, 29(4), 293–302.
Balasundram, N., Sundram, K., & Samman, S. (2006) Phenolic compounds in plants and agri-industrial by-products: Antioxidant activity, occurrence, and potential uses, Food Chemistry, 99(1), 191–203.
Devi, J & Muthu, A. K. (2014) Gas Chromatography-Mass Spectrometry Analysis of Bioactive Constituents in The Ethanolic Extract of Saccharum spontaneum Linn, International Journal of Pharmacy & Pharmaceutical Sciences, 6(2), 755-759.
Elezabeth, D.V & Arumugam, S. (2014) GC – MS Analysis of Ethanol Extract of Cyperus rotundus Leaves, International Journal of Current Biotechnology, 2(1), 19–23.
Fidrianny, I., Ilham, N., & Hartati, R. (2017) Antioxidant profile and phytochemical content of different parts of super red dragon fruit (Hylocereus costaricensis) collected from West Java-Indonesia, Asian Journal of Pharmaceutical and Clinical Research, 10(12), 290–294.
Figueiredo, A. C., J. G. Barroso., L. G. Pedro., & J. J. C. Sheffer. (2008) Factors affecting secondary metabolite production in plants: volatile components and essential oils, Flavour Fragr. J., 23, 213-226.
Ghosh, S., Banerjee, S., & Sil, P. C. (2015) The beneficial role of curcumin on inflammation, diabetes and neurodegenerative disease: A recent update, Food and Chemical Toxicology.
Gu, H. F., Li, C. M., Xu, Y. J., Hu, W.F., Cen, M.H., & Wan, Q.H. (2008) Structural features and antioxidant activity of tannin from persimmon pulp, Food Research International, 41(2), 208–217.
Harivaindaran K.V., Rebecca O. P. S., & Chandran, S. (2008). Study of optimal temperature, pH and stability of dragon fruit (Hylocereus costaricensis) peel for use as potential natural colorant. Pak. J. Biol. Sci. 11(18): 2259-2263.
Ho, K. Y., Huang, J. S., Tsai, C. C., Lin, C. C., Hsu, Y. F., & Lin, C. C. (1999) 'Antioxidant Activity of Tannin Components from Vaccinium vitisidaea L.', Journal of Pharmacy and Pharmacology, 51(9), 1075–1078.
Ho, K. Y. Tsai, C. C., Huang, J. S., Chen, C. P., Lin, T. C., & Lin, C. C. (2001) Antimicrobial activity of tannin components from Vaccinium vitis-idaea L., Journal of Pharmacy and Pharmacology, 53(2), 187–191.
Iwasa, K., Moriyasu, M., Tachibana, Y., Kim, H.-sook, Wataya, Y., Wiegrebe, W., & Lee, K. H. (2001) Simple isoquinoline and benzylisoquinoline alkaloids as potential antimicrobial, antimalarial, cytotoxic, and anti-HIV agents, Bioorganic and Medicinal Chemistry, 9(11), 2871–2884.
Khalili, R. M. A., Abdullah, A. C., & Manaf, A. A. (2012) Antibacterial Activity of Flesh and Peel Methanol Fractions of Red Pitaya, white Pitaya and Papaya on Selected Food Microorganisms, International Journal of Pharmacy and Pharmaceutical Sciences, 4, 185–190.
Lü, L., Jiang. S. B., Liu, S., & Wu, S. G. (2004) Tannin inhibits HIV-1 entry by targeting gp41, Acta Pharmacologica Sinica, 25(2), 213–218.
Melliawati, R. (2009) Escherichia coli dalam Kehidupan Manusia', Biotrends. Elsevier, 4(1),10–14.
Pagare, S., Bhatia, M., Tripathi, N., & Bansal, Y. K. (2015) Secondary metabolites of plants and their role: Overview, Current Trends in Biotechnology and Pharmacy, 9(3), 293–304.
Pietta, P. G. (2000) Flavonoids as antioxidants, Journal of Natural Products, 63(7), 1035– 1042. Purbaningtias, T. E., Aprilia, A. C., & Fauzi'ah, L. (2017) The Study of Temperature and UV Light Effect in Anthocyanin Extract from Dragon Fruit (Hylocereus costaricensis) Rind using UV-Visible Spectrophotometer, AIP Conference Proceedings, 1911, 1–5.
Samoylenko, V., Jacob, M. R., Khan, S. I., Zhao, J., Tekwani, B. L., Midiwo, J. O., Walker, L. A., & Muhammad, I. (2009) Antimicrobial, Antiparasitic and Cytotoxic Spermine Alkaloids from Albizia schimperiana, Natural Product Communications, 4(6), 791–796.
Sangi, M., Runtuwene, M. R. J., & Simbala, H. E. I. (2008) Analisis Fitokimia Tumbuhan Obat Di Kabupaten Minahasa Utara, Analisis Fitokimia Tumbuhan Obat Di Kabupaten Minahasa Utara, 1(1), 47–53.
Timothy, S. Y., Wazis, C. H., Adati, R. G., & Maspalma, I. D. (2012) Antifungal activity of aqueous and ethanolic leaf extracts of Cassia alata Linn, Journal of Applied Pharmaceutical Science, 2(7), 182-185.
Uma, B., Prabhakar, K., Rajendran, S., & Sarayu, L. (2009) Studies on GCMS spectroscopic analysis of some bioactive antimicrobial compounds from Cinnamomum zeylanicum, Journal of Medical Plants, 8(31), 125-131.
Wijaya, M., Noor, E., & Irawadi T. T. (2008) Karakterisasi komponen kimia asap cair dan pemanfaatannya sebagai biopestisida, Bionature, 9(1), 34-40.
Winarsi, Hery. (2007). Antioksidan Alami dan Radikal Bebas Potensinya dan dalam Kesehatan. Yogyakarta: Kanisius. Yatagai (2002) Utilization of charcoal and wood vinegar in Japan. Graduate School of Agricultural and Life Science. Tokyo : The University of Tokyo.
Yoshizawa, S., Horiuchi, T., Fujiki, H., Yoshida, T., Okuda, T., & Sugimura, T. (1987) Antitumor promoting activity of (−) epigallocatechin gallate, the main constituent of "Tannin" in green tea, Phytotherapy Research, 1(1), 44–47.
Zhao, J., Mou, Y., Shan, T., Li, Y., Zhou, L., Wang, M., & Wang, J. (2010) Antimicrobial Metabolites from the Endophytic Fungus Pichia guilliermondii Isolated from Paris polyphylla var. yunnanensis, Molecules, 15(11), 7961–7970.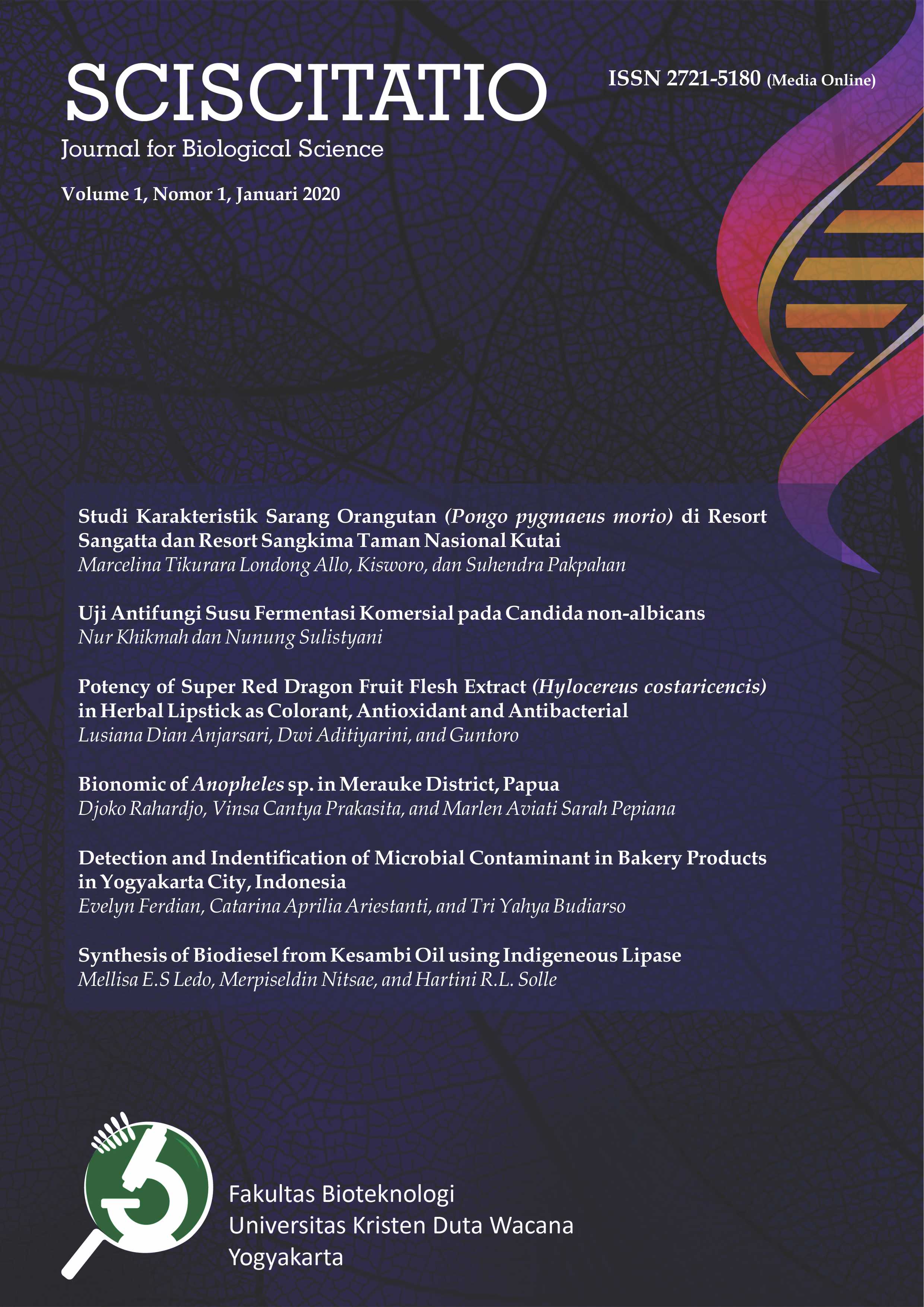 Downloads
How to Cite
Anjarsari, L. D., Aditiyarini, D., & Guntoro. (2020). Potency of Super Red Dragon Fruit Flesh Extract (Hylocereus costaricencis) in Herbal Lipstick as Colorant, Antioxidant and Antibacterial . SCISCITATIO, 1(1), 23–33. https://doi.org/10.21460/sciscitatio.2020.11.19