Isolation and Identification of Biofilm-Forming Staphylococcus Aureus in Commercial Cow Milk Products
Keywords:
Staphylococcus aureus, packed milk product, biofilm, API STAPH
Abstract
Food poisoning caused by the contamination from Staphylococcus aureus are frequently found in food
especially in dairy products. Pasteurization process in milk production was not enough to kill S. aureus because
it formed biofilm that could survive in high temperature. This research aimed to study the presence of biofilmforming S. aureus in samples from packed commercial milk products in Yogyakarta City, Indonesia. Twenty
isolates from dairy products were grown in Brain Heart Infusion (BHI) broth then inoculated into Braid-Parker
Agar (BPA) medium to get the candidate of S. aureus isolates. These isolate candidates were selected using
Mannitol Salt Agar (MSA) and Congo Red Agar (CRA) medium. Another selection was done by carbohydrate
fermentation analysis and confirmed using API STAPH. Confirmation analysis showed that eight isolates
were identified as S. aureus. Another two isolates were identified as S. xylosus and S. haemolyticus. Therefore,
it indicated the presence of Staphylococcus aureus as contaminant in dairy products.
References
Adetutu, A.A., Oritsewehinmi, B., Ikhiwili, O.M., Moradeke, A.O., Odochi, A.S., & Adeola,O.A. ( 2017). Studies on Staphylococcus aureus isolated from pimples. Pakistan. Journal of Biological Science, 20(7), 350-354.
Argudín, M.Á., Mendoza, M.C., & Rodicio, M.R. (2010). Food poisoning and Staphylococcus aureus enterotoxins.Toxins, 2(7), 1751-1773. Doi:10.3390/toxins2071751
Bnyan, I. (2013). Detection of Adhesion Genes and Slim Production among Staphylococcus aureus and Staphylococcus epidermidis Isolated from Hemodialysis Patients. College of Medicine, University of Babylon. Hilla, Iraq
Brooks, G.F., Carroll, K.C., Butel, J.S., Morse, S.A., & Mietzner, T.A. (2013). Mikrobiologi Kedokteran Ed.23, Translation of Jawetz, Melnick, and Adelberg's Medical Microbiology, 23th. McGraww-Hill, US
Casagrande, P. P., Stefanetti,V., Hyatt, D.R., Marenzoni, M. L., Capomaccio, S., Coletti, M., & Passamonti, F. (2015). Phenotypic and genotypic characterization of canine pyoderma isolates of Staphylococcu sp seudintermedius for biofilm formation. Journal of Veterinary Medical Science, 77(8), 945–951. doi:10.1292/jvms.15-0043
Capita, R., Allonso-Calleja, C., Moreno, B., & Garcia-Fernandez, M.C. (2001). Occurrence of Listeria species in retail poultry meat and comparison of a cultural/immunoassay for their detection . The Journal of Food Microbiology, 39, 321-325
Dai, J., Wu, S.,Huang, J., Wu, Q., Zhang, F., Zhang, J., Wang, J., Ding, Y., Zhang, S., Yang X., Lei, T., Xue, L., and Wu, H.
(2018). Prevalence and characterization of Staphylococcus aureus isolated from pasteurized milk in China. Front.
Microbiol. 10,641. doi: 10.3389/fmicb.2019.00641
Elsa, H.W., Maria, L.R., Tereza, C.R., Luciane, B.M., Lina, C.A., & Vanerli B. (2010). Assesment of the risk of raw milk consumption related to Staphylococcal food poisoning. Accessed 27 March 2015
Jin, W., & Yamada, K. (2016). Staphylococcal enterotoxins in processed dairy products. Food Hygiene and Toxicology in Ready-toEat Foods, 241–258. doi:10.1016/b978-0-12-801916-0.00014-5
Johler, S., Weder, D., Bridy, C., Huguenin, M.-C., Robert, L., Hummerjohann, J., & Stephan, R. (2015). Outbreak of staphylococcal food poisoning among children and staff at a Swiss boarding school due to soft cheese made from raw milk. Journal of Dairy Science, 98(5), 2944–2948. doi:10.3168/jds.2014-9123
Kadariya, J., Smith, T, C., & Thapaliya, D. (2014). Staphylococcus aureus and Staphylococcal Food-Borne Disease: An Ongoing Challenge in Public Health. BioMed Research International, 2014,1– 9. doi: 10.1155/2014/827965
Kim, M & Han, M. (2014). Characteristics of biofilm development in an operating rainwater storage tank. Environmental Earth Sciences, 72(5), 1633–1642. https:// doi.org/10.1007/s12665-014-3067-2
Kumar, A., Alam, A., Rani, M., Ehtesham, N. Z., & Hasnain, S. E. (2017). Biofilms: Survival and defense strategy for pathogens. International Journal of Medical Microbiology, 307(8), 481–489. https://doi.org/10.1016/j.ijmm.2017.09.016
Langlois, B.E., Harmon, R.J., & Akers, K.(1983). Identification of Staphylococcus species of bovine origin with the API Staph-Ident system. Journal of Clinical Microbiology, 18(5), 1212–1219.
Nemati, M., Hermans, K., Devriese, L. A., Maes, D., & Haesebrouck, F. (2009). Screening of genes encoding adhesion factors and biofilm formation in Staphylococcus aureus isolates from poultry. Avian Pathology, 38(6),513–517. https://doi.org/10.1080/03079450903349212
Olwal, C. O., Ang'Ienda, P. O., Onyango, D. M., & Ochiel, D. O. (2018). Susceptibility patterns and the role of extracellular DNA in Staphylococcus epidermidis biofilm resistance to physico-chemical stress exposure. BMC Microbiology, 18(1), 1–13. https://doi.org/10.1186/s12866-018-1183-y
Palilu, P. T & Budiarso, T. Y. (2017). Isolation and identification of Staphylococcus sp. In powdered infant milk. AIP Conference Proceedings 1844, 020016 (2017); doi:10.1063/1.4983427
Pumipuntu, N., Kulpeanprasit, S., Santajit, S., Tunyong, W., Kong-ngoen, T., Hinthong, W. , & Indrawattana, N. (2017). Screening method for Staphylococcus aureus identification in subclinical bovine mastitis from dairy farms.Veterinary World, 10(7),721-726.
Qian, W., Shen, L., Li, X., Wang, T., Liu, M., Wang, W., & Zeng, Q. (2019). Epidemiological Characteristics of
Staphylococcus aureus in Raw Goat Milk in Shaanxi Province, China. Antibiotics, 8(3), 141. doi:10.3390/antibiotics8030141
Rohinishree, Y & Negi, P. S. (2011). Detection, Identification and Characterization of Staphylococci in Street Vend Foods. Food and Nutrition
Scallan, E., Hoekstra, R. M., Angulo, F. J., Robert, V. T., Marc-Alain, W., Sharon,L. R., Jeffrey, L.J., & Patricia, M. G.(2011). Foodborne illness acquired in the United States—majorpathogens.Emerging Infectious Diseases. 17, 7–15.doi: 10.3201/eid1701.P11101.
Savage, E., Chothe, S., Lintner, V., Pierre,T., Matthews, T., Kariyawasam, S., & Jayarao, B. (2017) Evaluation of Three Bacterial Identification Systems for Species Identification of Bacteria Isolated from Bovine Mastitis and Bulk Tank Milk Samples. Foodborne Pathogens and Disease, 14(3), 177–187. doi:10.1089/fpd.2016.2222
Sutejo, S.V. H., Amarantini, C. & Budiarso, T.Y. (2017) Molecular detection of Staphylococcus aureus resistant to temperature in milk and its products. A I P C o n f e r e n c e P r o c e e d i n g s 1908, 050007 (2017) https://doi.
org/10.1063/1.5012731
Vanderhaeghen, W., Piepers, S., Leroy, F., Van Coillie, E., Haesebrouck, F., & De Vliegher, S. (2015).Identification, typing, ecology and epidemiology of coagulase negative Staphylococci associated with ruminants. The Veterinary Journal, 203(1), 44–51. doi:10.1016/j.tvjl.2014.11.001
Wu, S., Huang, J., Wu, Q., Zhang, F., Zhang, J., Lei, T., & Xue, L. (2018). Prevalence and Characterization of Staphylococcus aureus Isolated from Retail Vegetables in China. Frontiers in Microbiology, 9.doi:10.3389/fmicb.2018.01263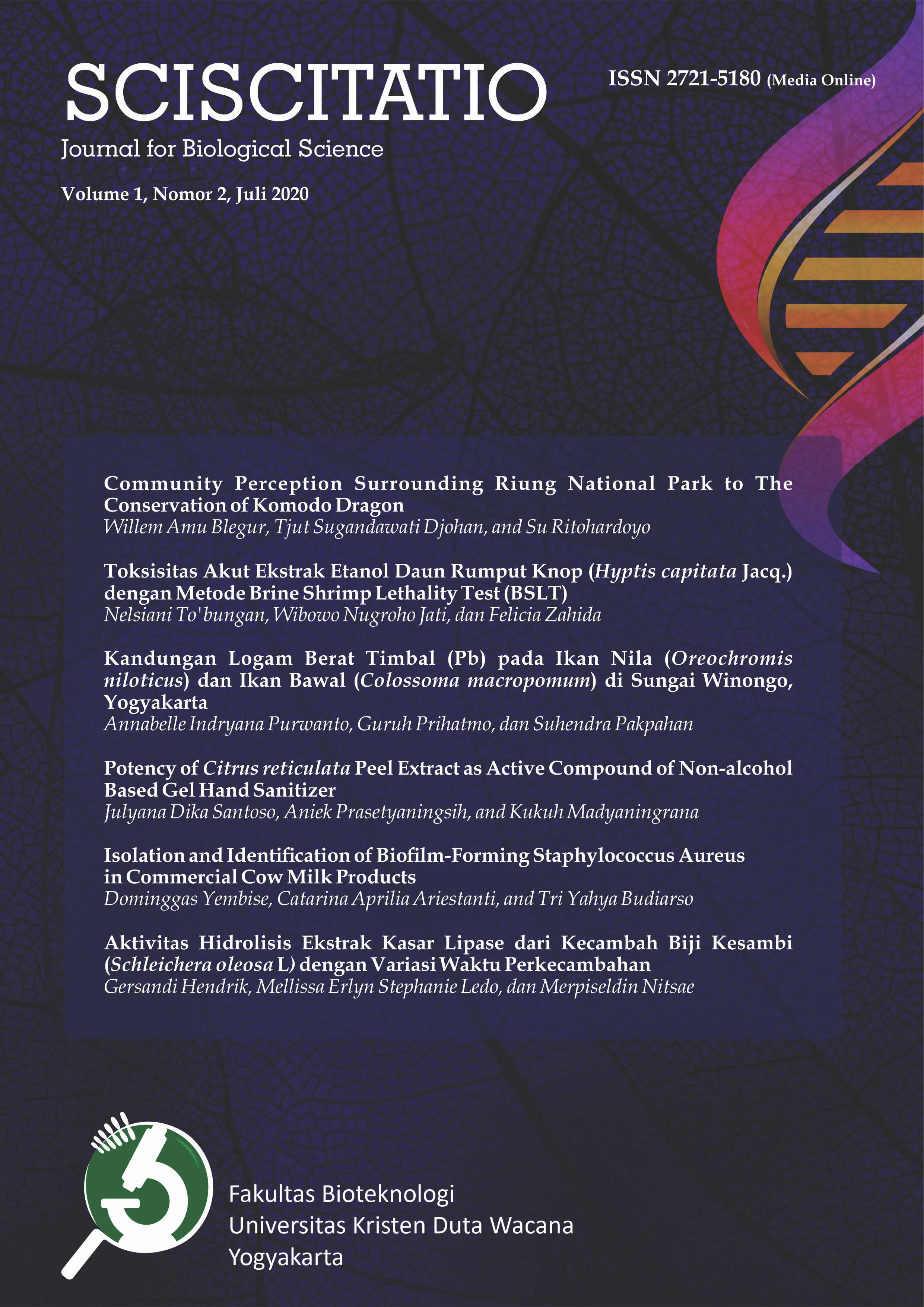 Downloads