Peningkatan Produksi Saponin pada Kultur Kalus Ginseng Jawa (Talinum paniculatum Gaertn) dengan Penambahan Ekstrak Yeast
Keywords:
Saponin, Talinum paniculatum Gaertn, Ekstrak yeast.
Abstract
Ginseng jawa (Talinum paniculatum Gaertn) merupakan tanaman yang dimanfaatkan dalam pengobatan tradisional masyarakat Indonesia. T. paniculatum berkhasiat dalam meningkatkan nafsu makan dan afrodisiaka. Upaya peningkatan produksi saponin pada T. paniculatum memerlukan metode yang efektif yaitu elisitasi. Ekstrak yeast (Saccharoyces cerevisiae) digunakan sebagai elisitor karena kemampuannya dalam memproduksi metabolit sekunder. Penelitian ini bertujuan untuk mengetahui pengaruh konsentrasi elisitor ekstrak yeast (0,025%, 0,05%, 0,075%, 0,1%, dan 0,5%) dan waktu inkubasi (1, 2, dan 3 minggu) terhadap biomassa dan produksi saponin dari kultur kalus daun T. paniculatum. Media yang digunakan adalah MS (Murashige and Skoog). Identifikasi saponin menggunakan KLT (Kromatografi Lapis Tipis). Hasil menunjukkan konsentrasi ekstrak yeast dan waktu inkubasi tidak berpengaruh secara signifikan dalam meningkatkan biomassa kalus T. paniculatum. Konsentrasi ekstrak yeast 0,075% dengan waktu inkubasi 3 minggu menghasilkan luas noda saponin tertinggi yaitu 0,549 cm2.
References
Abraham, F., Bhatt, A., Lai Keng, C., Indrayanto, G., & Shaida, F. (2011). Effect of yeast extract and chitosan on shoot proliferation, morphology and antioxidant activity of Curcuma mangga in Vitro plantlets. African Journal of Biotechnology, 10(40), 7787-7795.
Ashokhan, S., Othman, R., Rahim, M. H., Karsani, S. A., & Yaacob, J. S. (2020). Effect of Plant Growth Regulators on Coloured Callus Formation and Accumulation of Azadirachtin, an Essential Biopesticide in Azadirachta indica. Plants, 9 (352), 1-17
Balitbangkes, Balai Besar Penelitian dan Pengembangan Tanaman Obat dan Obat Tradisional. (2015). Laporan Nasional Eksplorasi Pengetahuan Lokal Etnomedisin dan Tumbuhan Obat Berbasis Komunitas di Indonesia (Riset Tumbuhan Obat dan Jamu. Jakarta.
Baenas, N., Garcia-Viguera., C., & Moreno., D.A. (2014). Elicitation: A tool for enriching the bioactive composition of foods. Molecules, 19, 13541-13563.
Boller, T. (1995). Chemoperception of Microbial Signals in Plant Cells. Annual Review Plant Biology, 46, 189–214.
D'Ovidio. R., Mattei. B., Roberti. S., & Bellincampi, D. (2004). Polygalacturonases, polygalacturonase-inhibiting proteins and pectic oligomers in plant-pathogen interactions. Biochimica et Biophysica Acta, 1696, 237–244.
Hariyum, A. (1986). Pembuatan Protein Sel Tunggal. Waca Utama Pramesti: Jakarta.
Hendaryono, D. P. S & Wijayani, A. (1994). Teknik Kultur Jaringan. Yogyakarta: Penerbit kanisius.
Herbert, R. B. (1981). The biosynthesis of secondary metabolites.
Kimball, S. R & Jefferson, L. S. (2006). New functions for amino acids: effects on gene transcription and translation. The American of Journal Clinical Nutrition, 83(2), 500S–507S.
Makunga, N. P., Jager, A. K., van Staden, J. (2005). An improved system for the in vitro regeneration of Tapsia garganica via direct organogenesis – influence of auxins and cytokinins. Plant Cell, Tissue and Organ Culture, (82), 271–280.
Manitto, P. (1992). Biosintesis Produk Alami. Penerjemah: Koensoemardiyah. Semarang: IKIP Press.
Manuhara, Y. S. W., Kristanti, A. N., Utami, E.S.W. & Yachya, A. (2015). Effect of Sucrose and Potassium Nitrate on Biomass and Saponin Content of Talinum paniculatum Gaertn. Hairy root in ballon-type bubble bioreactor. Asian Pasific Journal of Tropical Biomedicine, 5(12), 1027-1032.
Milic, T. V., Rakin, M., & Slavica, S. M. (2007). Utilization of Baker's Yeast (Saccharomyces cerevisiae) for the Production of Yeast Extract: Effect of Different Enzymatic Treatment on Solid, Protein and Carbohydrate Recovery. Journal of the Serbian Chemical Society, 72(5), 451-457.
Ningsih & Yulia. (2014). Pengaruh elisitor biotik dan abiotik pada produksi flavonoid melalui kultur jaringan tanaman. Bagian Biologi Farmasi, Fakultas Farmasi Universitas Jember, Indonesia
Patel, H & Krishnamurthy, R. (2013). Elicitors in plant tissue culture. Journal of Pharmacognosy and Phytochemistry, 2(2), 60-65.
Rahmi, Eriani, K., & Widya. (2011). Potency of Java Gingseng (Talinum paniculatum Gaertn.) Root Extract on Quality and Viability of Mice Sperm. Journal National. 11(1), 7-10.
Rahimi, S., Devi, B. S. R., Khorolragchaa, A., Kim, Y. J., Kim, J. H., Jung, S. K. & Yang, D. C. (2014). Effect of salicylic acid and yeast extract on the accumulation of jasmonic acid and sesquiterpenoids in Panax ginseng adventitious roots. Russian Journal Plant Physiology, 61, 811–817.
Saroni, N., Y. Astuti., & Adjirni. (1999). Pengaruh infus akar som jawa (T. paniculatum) terhadap jumlah dan motilitas spermatozoa pada mencit. Warta Tumbuhan Obat Indonesia, 5(4), 13-14.
Sharma, M., Sharma, A., Kumar, A. & Basu, S. K. (2011). Enhancement of secondary metabolites in cultured plant cells through stress stimulus. American Journal of Plant Physiology, 6(2), 50-71.
Srivastava, S. & Srivastava, A. K. (2014). Effect of elicitors and precursors on azadirachtin production in hairy root culture of Azadirachta indica. Applied Biochemistry Biotechnology, 172, 2286–2297.
Silalahi, M. (2010). Elisitasi Peningkatan Produksi Ajmalisin Oleh Kalus Catharantus roseus (L.) G. Don. Berita Biologi, 10 (3).
Syahrial, B.R., Manuhara, S.W., Setiti, E. & W.U. (2018). Pengaruh Elisitor Ekstrak Saccharomyces cerevisiae terhadap Biomassa dan Kadar Saponin Akar Adventif Talinum paniculatum (Jacq) Gaertn., Secara In-vitro. Departement of Biology, Faculty of Sains and Technology Airlangga University.
Solichatun, Anggarwulan, E. & Mudyantini, W. (2005). Pengaruh Ketersediaan Air terhadap Pertumbuhan dan Kandungan Bahan Aktif Saponin Tanaman Gingseng Jawa (Talinum paniculatum Gaertn.). Biofarmasi, 3(2), 47-51.
Turhan, H. (2004). Callus Induction and Growth in Transgenic Potato Genotype. African Journal of Biotechnology, 3 (8), 375-378.
Widiastoety, D & Kartikaningrum. (2003). Pemanfaatan Ekstrak Ragi dalam Kultur In Vitro Plantet Media Anggrek. Cianjur. J. Hort, 2, 60-66.
Wijaya, R., Restiani. R. & Aditiyarini, D. (2020). Pengaruh Kitosan terhadap Produksi Saponin Kultur Kalus Daun Ginseng Jawa (Talinum paniculatum (Jacq.) Gaertn.). Prosiding Seminar Nasional Biologi, 5 (1), pp. 252-261.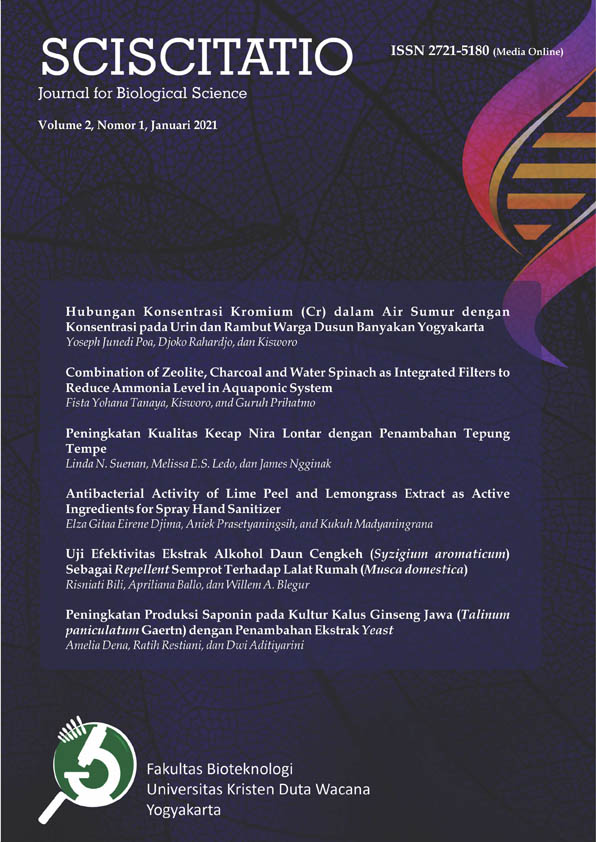 Downloads
How to Cite
Dena, A. ., Restiani, R. ., & Aditiyarini, D. . (2021). Peningkatan Produksi Saponin pada Kultur Kalus Ginseng Jawa (Talinum paniculatum Gaertn) dengan Penambahan Ekstrak Yeast. SCISCITATIO, 2(1), 35–44. https://doi.org/10.21460/sciscitatio.2021.21.48