Analisis Normalitas dan Abnormalitas Spermatozoa Segar Sapi Limousin (Bos taurus) dan Sapi Bali (Bos sondaicus) Sebelum Proses Pembekuan Di Balai Besar Inseminasi Buatan Singosari Malang
Keywords:
normalitas dan abnormalitas spermatozoa, sapi limousin, sapi bali.
Abstract
Sejak digalakkan Swasembada Sapi oleh kementrian pertanian guna mewujudkan ketahanan pangan
hewani, dilakukanlah Inseminasi Buatan (IB). Langkah yang perlu diperhatikan dalam pelaksanaan IB adalah
pengujian kualitas spermatozoa secara makroskopis dan mikroskopis. Tujuan penelitian ini adalah untuk
menganalisis perbedaan normalitas dan abnormalitas spermatozoatozoa segar sapi limousin (Bos taurus)
dan sapi bali (Bos sondaicus) sebelum proses pembekuan. Metode pengambilan sampel spermatozoatozoa
ditampung menggunakan AV (Artivical Vagina), dilakukan pengamatan secara makroskopis dan mikroskopis
menggunakan IVOS II untuk mengetahui presentase normalitas dan abnormalitas spermatozoatozoa. Parameter
yang dihitung diantaranya, makroskopis yaitu Warna, volume, pH dan konsentrasi, normalitas, abnormalitas.
Analisis yang digunakan adalah uji t test independent. Hasil dari penelitian normalitas dan abnormalitas sapi
limousin dengan sapi bali menunjukkan thit = 4,42 ; ttabel = 0,025 yaitu thitung > t(0,025). maka H0 diterima, artinya
dari kedua kelompok sapi tersebut kualitas spermatozoanya tidak perbedaan nyata secara signifikan antara
normalitas dan abnormalitas sapi limousin dan sapi bali sebelum proses pembekuan.
References
Arifiantini, I. (2012). Teknis Koleksi dan Evaluasi Semen pada Hewan. IPB Press. Bogor.
Hafez, B and Hafez, E.S.E. (2000). Reproduction In Farm Animal 7 th edition Lippiniccot Williams and Willkins Philladelphania.
Holt, W. (2000). Basic aspects of frozen storage of semen. Animal Reproduction Science 62(1–3): 3–22. doi: 10.1016/S0378-4320(00)00152-4.
Feradis. (2011). Bioteknologi Reproduksi Pada Ternak. Alfabeta, Bandung. Manjunath P. 2012. New insights into the understanding of the mechanism of sperm protection by extender components. Anim. Reprod 9(4): 809–815.
Nugraha, Y. (2018). Morfologi Spema Norma Dan Abnormal Teratozoospermia. Klinik Holistik Elif Medika.
Nuryadi. (2014). Ilmu Reproduksi Ternak, hal.49 – 55.Universitas Brawijaya (UB Press): Malang.
Tambing, S.N., Sutamadan. R.I. Arifianti. (2003). Evektifitas Berbaga KonsentrasiLaktosa dalam pengenceran tris terhadap viabilitas sperma cair kambing saneen. Jurnal Ilmu Ternak dan Veteriner. M Puslitbangnak Balitbang Pertanian Departemen Pertanian. 8 (2): 84-90.
Turner, M.R. (1981). The Tropical Adaption Of Beef Cattle. An Australian Study In: Animal Breeding: Selected Articles From The Word Anim. Rev. FAO Animal Production and Health paper 1;92-97
Butar, E. (2009). Efektifitas Frekuensi Exercise Terhadap Peningkatan Kualitas Semen Sap Simmental.http://repository.usu.ac.id/bistream/I/09E00898.pdf. Diakses Pada 10 Juli 2019.
Susilawati, T. (2013). Pedoman Inseminasi Buatan Pada Ternak. Universitas Brawijaya (UB) Press. Malang
Fitri, Z. (2009). Penggunaan Air Kelapa Sebagai Penyeimbang Fruktosa Dalam Pengencer Terhadap Kualitas Spermatozoa Sapi Simental Dan Sapi Bali, Fakultas Pertanian Universitas Sumatera Utara, Medan.
Evans & K. Maxwell. (1987). Spermatozoa Segar Sapi Limousin Dalam Berbagai Musim. Fakultas Peternakan.Universitas Tadulako, Palu.
Rizal, W & Herdis, S. (2008). Ilmu Reproduksi Ternak. Mutiara Sumber Widya, Bekasi
Pond, K & W. Pond. (1999). Introduction to Animal Science. John Willey & Sons, Inc. USA.
Salisbury, G.W & N.L.Van Denmark. (1985). Fisiologi dan Inseminasi Buatan pada Sapi (Physiologi and Artifical Inseminastion of Cattle). Diterjemahkan oleh Djanuar, R. Gajah Mada University Press. Yogyakarta.
Ax R. L., Dally M. R., Didion B. A., Lenz R. W., Love C. C., Varner D. D., Hafez B., & Bellin M. E. (2000). Semen Evaluation, pp. 365 – 375, In E.S.E. Hafez Edt. Reproduction in Farm Animal 7th Edition. Lippincott Williams & Wilkins, Philadelphia, USA.
Campbell, J.R, K.L. Campbell & M.D. Kenealy.(2003a). Anatomy and Physiology of Reproduction and Related Technologies in Farm Mammals: in Animal Sciences Ed ke-4. Mc Graw-Hill, New York.
Hafez, ESE. (1993). Preservation and Cryopreservation of Gamet and Embryos in Reproduction in Farm Animal ed by ESE Hafez, Edition Blackwell Publishing: 431-442.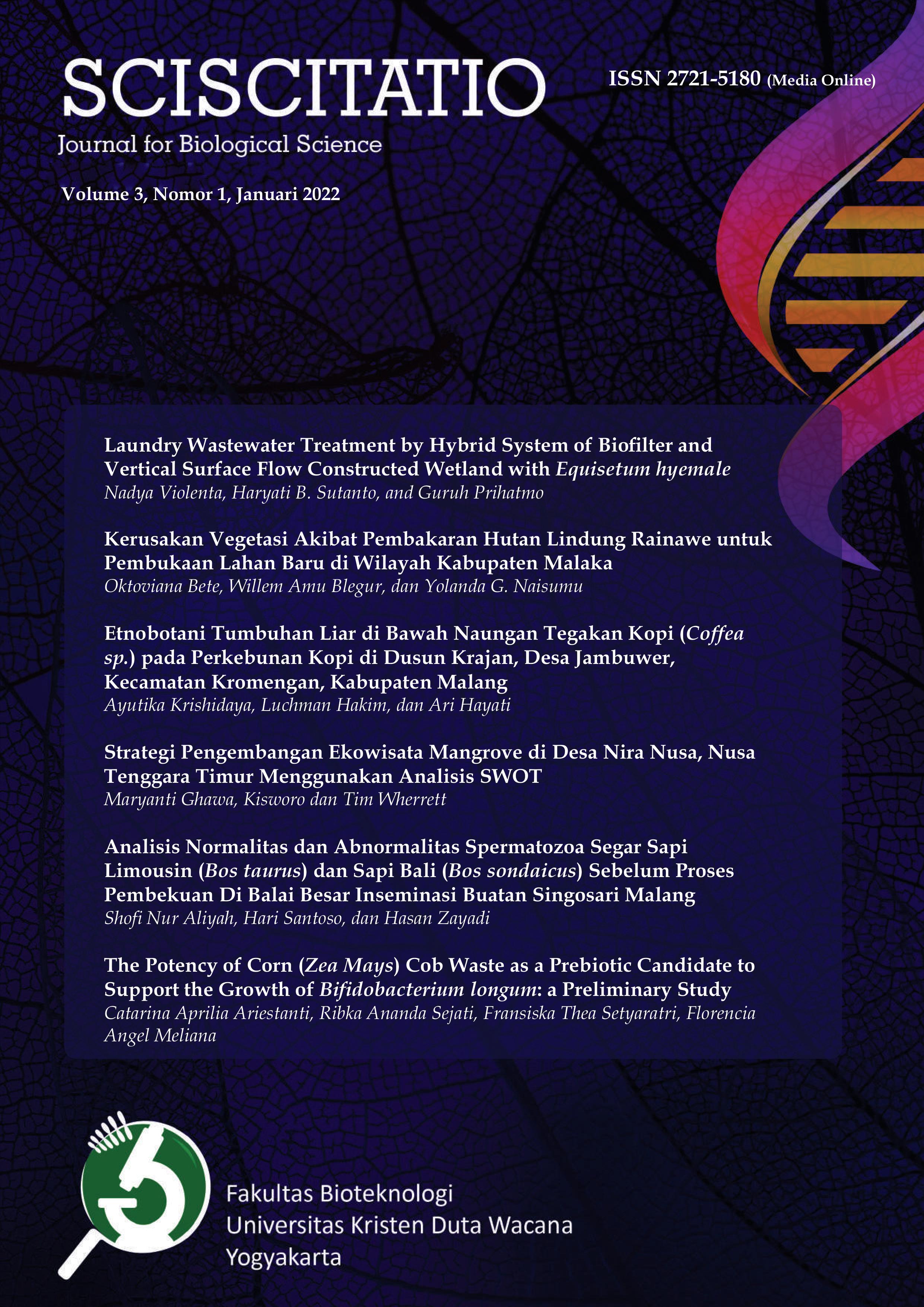 Downloads
How to Cite
Nur Aliyah, S. ., Santoso, H. ., & Zayadi, . H. . (2022). Analisis Normalitas dan Abnormalitas Spermatozoa Segar Sapi Limousin (Bos taurus) dan Sapi Bali (Bos sondaicus) Sebelum Proses Pembekuan Di Balai Besar Inseminasi Buatan Singosari Malang. SCISCITATIO, 3(1), 38–46. https://doi.org/10.21460/sciscitatio.2022.31.85
License
Copyright (c) 2022 THE AUTHOR(S)
This work is licensed under a Creative Commons Attribution-ShareAlike 4.0 International License.