Elisitasi Flavonoid menggunakan Kitosan pada Kultur Kalus Ginseng Jawa (Talinum paniculatum Gaertn.)
Keywords:
Elisitasi, flavonoid, kultur kalus, kitosan, Talinum paniculatum
Abstract
Ginseng Jawa (Talinum paniculatum Gaertn.) sering dimanfaatkan dalam pengobatan herbal karena mengandung flavonoid yang berkhasiat sebagai antivirus, antiinflamasi, kardioprotektif, antidiabetes, antikanker,dan antioksidan. Kultur in vitro adalah teknik yang dapat meningkatkan produksi metabolit sekunder melalui elisitasi. Elisitasi metabolit sekunder dengan menggunakan kitosan dapat digunakan untuk menghasilkan flavonoid dan bekerja langsung pada enzim kunci penghasil flavonoid. Penelitian ini bertujuan untuk mengetahui pengaruh konsentrasi kitosan dan durasi elisitasi terhadap biomassa kalus dan akumulasi flavonoid. Inisiasi kalus T. paniculatum dilakukan menggunakan eksplan daun yang diinokulasi dalam media MS dengan penambahan 3 mg/L kinetin dan 2 mgL 2,4-D. Kalus berusia 58 hari (fase early stasioner) dielisitasi dengan variasi konsentrasi kitosan 0, 50, 150, dan 200 ppm dan durasi elisitasi 0, 24, 48, dan 96 jam. Ekstraksi kalus menggunakan metanol 96% dilanjutkan analisis secara kualitatif dan semi kuantitatif menggunakan KLT. Peningkatan konsentrasi dan durasi elisitasi kitosan secara umum menyebabkan penurunan biomassa kalus (0,051-0,066 g/g BK) dibandingkan kontrol (0,067 g/g BK). Selain itu, peningkatan konsentrasi dan durasi elisitasi kitosan berpengaruh terhadap peningkatan akumulasi flavonoid berdasarkan luas noda KLT (0,082 - 0,1178) cm2 dibandingkan kontrol (0,0785 cm2). Konsentrasi dan durasi elisitasi kitosan yang optimal meningkatkan biomassa kalus (0,068 g/g BK) adalah kitosan konsentrasi 150 ppm selama 24 jam (K2W1) sedangkan akumulasi flavonoid optimal (0,1178 cm2) dan intensitas warna noda KLT bernilai 5 (kuning kehijauan gelap) pada perlakuan kitosan 150 ppm selama 48 jam (K2W2).
References
Anwar, K & Triyasmono, L. (2016). Kandungan Total Fenolik , Total Flavonoid , dan Aktivitas Antioksidan Ekstrak Etanol Buah Mengkudu (Morinda citrifolia L.). Jurnal Pharmascience, 3(1), 83–92.
Benjamin, E. D., Ishaku, G. A., Peingurta, F. A., & Afolabi, A. S. (2019). Callus Culture for the Production of Therapeutic Compounds. American Journal of Plant Biology, 4(4), 76. https://doi.org/10.11648/j.ajpb.20190404.14
Guo, Z.G., Y. Liu., & M.Z., Gong. (2012). Regulation of Viblastine Biosynthesis in Cell Suspension Cultures of Chatharantus roseus. Plant Cell Tissue Organ Cult: Springer.
Ikhtimami, A. (2012). Pengaruh Periode Subkultur terhadap Kadar Saponon Akar Rambut Tanaman Ginseng Tanaman Ginseng Jawa (Talinum paniculatum Gaertn.). Skripsi thesis, Universitas Airlangga.Surabaya
Herman, K., N. (2019). Optimasi sterilisasi dan induksi kalus pada Ginseng Jawa (Talinum paniculatum Gaertn.). Y o g y a k a r t a : S k r i p s i F a k u l t a s Bioteknologi Universitas Kristen Duta Wacana
Indah, P.N. & Ermavitalini, D. (2013). Induksi Kalus Daun Nyamplung (Calophyllum inophyllum Linn.) pada Beberapa Kombinasi Konsentrasi 6- BAP dan 2,4-D. Jurnal Sains dan Seni Pomits; 2(1): 1-6.
Isah, T., Umar, S., Mujib, A., Sharma, M. P., Rajasekharan, P. E., Zafar, N., & Frukh, A. (2018). Secondary metabolism of pharmaceuticals in the plant in vitro cultures: strategies, approaches, and limitations to achieving higher yield. Plant Cell, Tissue and Organ Culture, 132(2), 239–265. https://doi.org/10.1007/s11240-017-1332-2
Jakubas, M. S & Nowak, B. H. (2022). Protective, Biostimulating, and Eliciting Effects of Chitosan and Its Derivatives on Crop Plants. Molecules, 27(2801), 1–17.
Jiao, J., Qing Yan, G., Xin, W., Qi Ping, Q., Zi Ying, W., Jing, L., & Yu Jie, F. (2018). Chitosan Elicitation of Isatis tinctoria L. Hairy Root Cultures for Enhancing Flavonoid Produtivity and Gene Expression and Related Antioxidant Activity. Industrial Crops and Products; 124(2018): 28-35.
Karuppusamy, S. (2010). A Review on Trends in Production of Secondary Metabolites from Higher Plants by In Vitro Tissue, Organ, and Cell Cultures. Journal of Medicinal Plants Research, 3(13): 1222-1239.
Khan, T., Khan, T., Hano, C., & Abbasi, B. H. (2019). Effects of chitosan and salicylic acid on the production of pharmacologically attractive secondary metabolites in callus cultures of Fagonia indica. Industrial Crops and Products, 129 (December 2018), 525–535. https://doi.org/10.1016/j.indcrop.2018.12.048
Lestario, L., Christian, A., & Martono, Y. (2009). Aktivitas Antioksidan Daun Ginseng Jawa (Talinum paniculatumGaertn) Antioxidant Activity of Javanese Ginseng (Talinum paniculatumGaertn) Leaves. Agritech: Jurnal Fakultas Teknologi Pertanian UGM, 29(2): 71–78.
Murashige, T & Skoog, F. (1962). A Revised Medium for Rapid Growth and Bio Assays with Tobacco Tissue Cultures. Physiologia Plantarum, 1 5 (3), 473–497. https://doi.org/10.1111/j.1399-3054.1962.tb08052.x
Namdeo, A.G. (2007). Plant cell elicitation for production of secondary metabolites: A review. Pharmacognosy Reviews, 1(1):69-79.
Rahayu, B., Solichatun., & Anggarwulan, E . ( 2 0 0 3 ) . P e n g a r u h A s a m 2,4-Diklorofenoksiasetat (2,4-D) terhadap Pembentukan dan Pertumbuhan Kalus serta Kandungan Flavonoid Kultur Kalus Acalypha indicaL. Biofarmasi, 1(1): 1–6.
Ramirez-Estrada, K., Vidal-Limon, H., Hidalgo, D., Moyano, E., Golenioswki, M., Cusidó, R. M., & Palazon, J. (2016). Elicitation, an effective strategy for the biotechnological production of bioactive high-added value compounds in plant cell factories. Molecules, 21(2). https://doi.org/10.3390/molecules21020182
Sayed, M., Khodary, S. E. A., Ahmed, E. S., Hammouda, O., Hassan, H. M., & El-Shafey, N. M. (2017). Elicitation of flavonoids by chitosan and salicylic acid in callus of Rumex vesicarius L. Acta Horticulturae, 1187(November), 165–176. https://doi.org/10.17660/ActaHortic.2017.1187.18
Seswita, D. (2010). Som Jawa (Talinum paniculatum) Ginseng Indonesia Penyembuh Berbagai Penyakit. Warta Penelitian dan Pengembangan Tanaman, 16(2): 21–23.
Silalahi, M. (2022). Talinum paniculatum (Jacq.) Gertn (Kajian Pemanfaatannya sebagai Bahan Pangan dan Bioaktivitasnya). Jurnal Pro-Life, 9(1): 289–299. https://ejournal.uki.ac.id/index.php/prolife
Silalahi, M., (2010). Elisitasi Peningakatan Produksi Ajmalisin oleh KalusCatharantus roseus (L.) G.Don. Biologi, P. P., Ilmu, F., Indonesia, U. K., Cawang, J.
S., & Timur. Berita Biologi,10(3): 305–311.Sitinjak, M.A., Isda M.N., & Fatonah, S. (2015). Induksi Kalus dari Eksplan Daun In Vitro Keladi Tikus (Typhonium sp.) dengan Perlakuan 2,4-D dan Kinetin. Al-Kauniyah Jurnal Biologi, 8(1): 32-39.
Srisornkompon, P., R. Pichyangkura., & S. Chadchawan. (2014). Chitosan Increased Phenolic Compound Contents in Tea (Camellia sinensis) Leaves by Pre and Post Treatments. Chitin and Chitosan Science. 2, 1-6.
Vanisree, M., Lee, C., Lo, S., Nalawade, S.M., Lin, C.Y., & Tsay, H. (2004).Studies on The Production of some Important Secondary Metabolites from Medicinal Plants by Plant Tissue Cultures. 45: 1-22.
Wardani, D.P., Solichatun., & Setyawan, A.D. (2004). Pertumbuhan dan Produksi Saponin Kalus Talinum paniculatum Gaertn. pada Variasi Penambahan asam 2,4-D dan Kinetin. Biofarmasi; 2(1), 35-43
Wijaya, R., Restiani, R., & Aditiyarini, D. (2020). Pengaruh Kitosan terhadap Produksi Saponin Kultur Kalus Daun Ginseng Jawa ( Talinum paniculatum ( Jacq .) Gaertn .). Prosiding Seminar Nasional Biologi Di Era Pandemi COVID-19, September, 252–261.
Zuo, G., Guan, T., Chen, D., Li, C., Jiang, R., Luo, C., Hu, X., Wang, Y., & Wang, J. (2009). Total saponins of Panax Ginsenginduces K562 cell differentiation by promoting internalization of the erythropoietin receptor. American Journal of Chinese Medicine, 37(4), 747–757. https://doi.org/10.1142/S0192415X09007211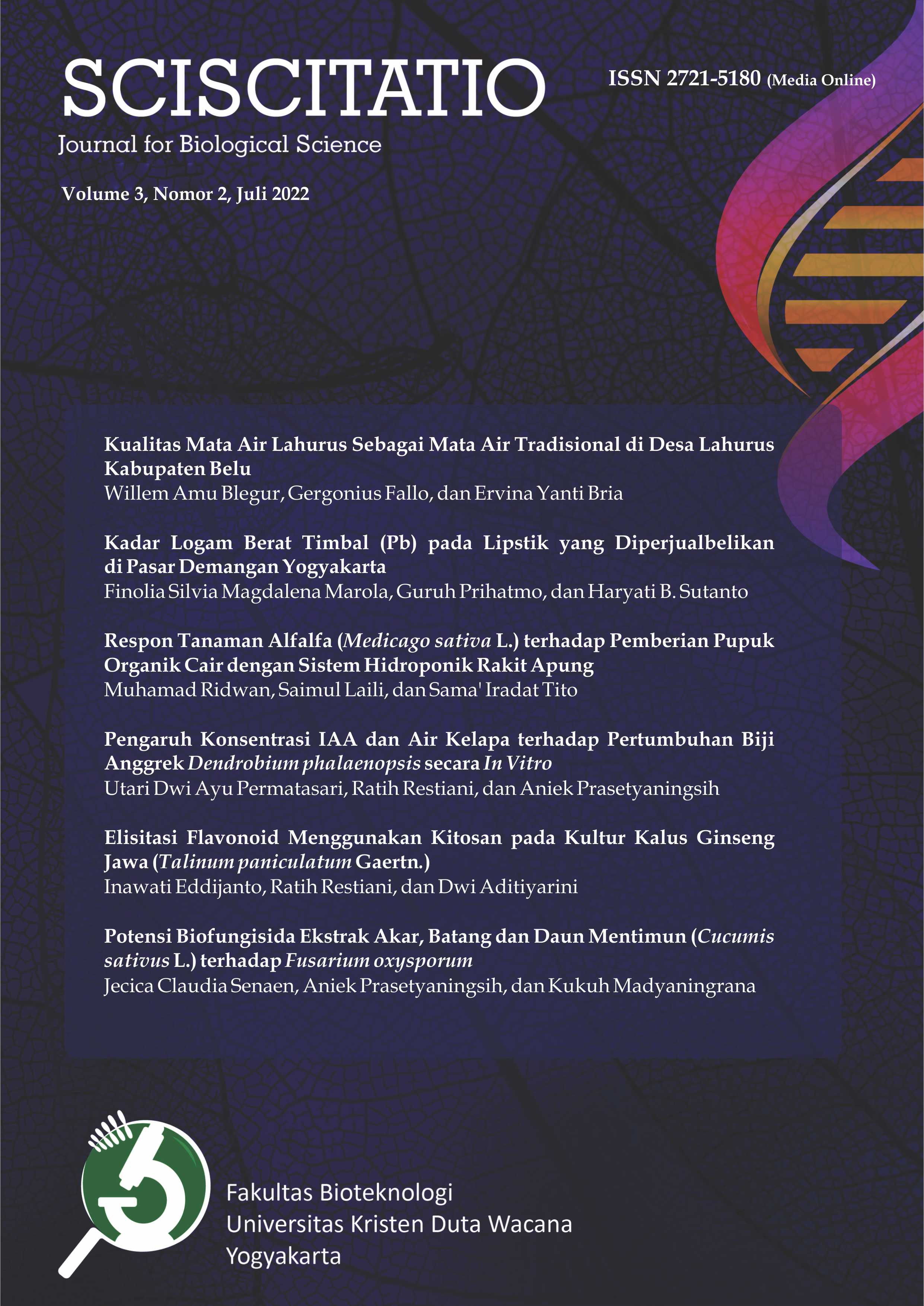 Downloads
How to Cite
Eddijanto, I. ., Restiani, R., & Aditiyarini, D. . (2022). Elisitasi Flavonoid menggunakan Kitosan pada Kultur Kalus Ginseng Jawa (Talinum paniculatum Gaertn.) . SCISCITATIO, 3(2), 90–99. https://doi.org/10.21460/sciscitatio.2022.32.94
License
Copyright (c) 2022 THE AUTHOR(S)
This work is licensed under a Creative Commons Attribution-ShareAlike 4.0 International License.