Elisitasi Saponin dalam Kultur Kalus Ginseng Jawa (Talinum paniculatum Gaertn.) Menggunakan Asam Salisilat
Keywords:
elisitasi, asam salisilat, kultur in vitro, T. paniculatum, saponin
Abstract
Ginseng Jawa (Talinum paniculatum Gaertn.) digunakan dalam pengobatan tradisional karena
mengandung senyawa metabolit sekunder berupa saponin, tannin, alkaloid, kuinon, steroid, polifenol,
flavonoid, dan minyak atsiri. Dari beberapa senyawa metabolit sekunder tersebut, saponin merupakan metabolit
sekunder yang dominan dihasilkan oleh ginseng jawa dan diketahui memiliki banyak efek farmakologi. Elisitasi
melalui kultur in vitro khususnya kultur kalus dapat digunakan dalam upaya meningkatkan kandungan
saponin menggunakan asam salisilat. Penelitian ini bertujuan untuk mengetahui pengaruh konsentrasi asam
salisilat dan waktu elisitasi terhadap pertumbuhan kalus dan produksi saponin dalam kultur kalus Talinum
paniculatum. Induksi dan produksi kalus T. paniculatum menggunakan media MS dengan kombinasi 2,4-D 2
mg/L + kinetin 3 mg/L. Kalus yang telah memasuki fase stationer (pada hari ke 58) digunakan untuk proses
elisitasi. Elisitasi kalus menggunakan variasi konsentrasi asam salisilat 0,5 mM, 0,10 mM, 0,15 mM, 0,20
mM, 0,25 mM, 0,30 mM, 0,35 mM dan waktu inkubasi 3 hari, 6 hari, dan 9 hari. Ekstrak kalus selanjutnya
diidentifikasi menggunakan KLT untuk mengetahui kandungan saponinnya melalui luas noda saponin.
Penambahan konsentrasi asam salisilat sebesar (0,05 – 0,35 mM) dan waktu elisitasi (3-9 hari) pada kultur
kalus T.paniculatum berpengaruh terhadap peningkatan biomassa kalus (0,056 – 0,069 gram) dibandingkan
kontrol (0,054 gram) dan kandungan saponin dalam kalus. Kandungan saponin tertinggi sebesar 0,565 cm2
pada perlakuan konsentrasi asam salisilat 0,30 mM dengan waktu inkubasi 6 hari
References
Anusha, T. S., Joseph, M.V., & Elyas K. K. (2016). Callus Induction and Elicitation in Callus Cell Suspension Culture of Celastrus paniculatus-wild, and Endangered Medicinal Plant in India. Pharmacognosy Journal, 8(5), 471-475.
E f f e r t h , T . ( 2 0 1 9 ) . B i o t e c h n o l o g y A p p l i c a t i o n s o f P l a n t C a l l u s Cultures. Engineering (5),50-59.
Faizal, A. & Sari, A. V. (2019). Enhancement of saponin accumulation in adventitious. African Journal of Biotechnology, 18(6), 130-135
Halder, M., Sharkar, S., & Jha, S. (2019). Elicitation: A Biotechnological Tool For Enhanced Production Of Secondary Metabolites In Hairy Root Cultures. Engineering Life Science, 19(12), 880-895.
Lutfiana. (2013). Uji Aktivitas Antiimflamasi Ekstrak Daun Kelor (Moringa oleifera Lamk.) Dengan Metode Stabilisasi Membrane Sel Darah Merah Dengan Metode In vitro. [Skripsi]. Jakarta : UIN
Syarif Hidayatullah., Manuhara, Y. S. W., Kristanti, A. N., & Utami ESW. (2015). Optimization of culture conditions of Talinum paniculatum Gaertn. adventitious roots in balloon type bubble bioreactor using aeration rate and initial inoculum density.
Asian Journal of Biological Sciences, 8, 83-92. Pratama, M. A., Hosea J. E., & Jovie M. D. (2012). Isolasi dan Identifikasi Senyawa Saponin Dari Ekstrak Metanol Batang Pisang Ambon (Musa paradisiaca var. sapientum L.).[online] Pharmacon, 1(2), 86-92.
Purwianingsih, W., Febri, S., & Kusdianti. (2016). Formation flavonoid secondary metabolites in callus culture of Chrysanthemum cinerariefolium as alternative provision medicine. AIP Conference Proceedings 1708.
Setiawati, T., Ayalla, A., Nurzaman, M., Kusumaningtyas, V., & Bari, I. (2020). Analisis Metabolit Sekunder Kultur Pucuk, Kalus, dan Tanaman Lapang Chrysanthemum morifolium Ramat. Jurnal Ilmu Dasar, 21(1), 1-10.
Setyani, W., Setyowati, H. & Ayuningtyas, D.(2016). Pemanfaatan Ekstrak Terstandardisasi Daun Som Jawa (Talinum paniculatum). Jurnal Farmasi Sains Dan Komunitas, 13(1), 44-51.
Sudarmadji. (2003). Penggunaan Benzil Amino Purine pada Pertumbuhan Kalus Kapas Secara In Vitro. Buletin Teknik Pertanian (8).
Trimulyono, G., Solichatun., & Marliana S. D. (2014). Pertumbuhan Kalus dan Kandungan Minyak Atsiri Nilam (Pogostemon cablin (Blanco) Bth.) dengan Perlakuan Asam ?Naftalen Asetat (NAA) dan Kinetin . Biofarmasi, 2(1), 9-14.
Wang, J., Qian, J., Yao, L., & Lu, Y. (2015). Enhanced Production of Flavonoid by Methyl Jasmonate Elicitation in Cell Suspension Culture of Hypericum perforatum. B i o r e s o u r c e s d a n Bioprocessing (2)5, 1-9.
Wijaya. R., Restiani. R., & Aditiyarini. D. (2020). Pengaruh Kitosan terhadap Produksi Saponin Kultur Kalus Daun Ginseng Jawa (Talinum paniculatum(Jacq.) Gaertn.). Prosiding Seminar Nasional Biologi.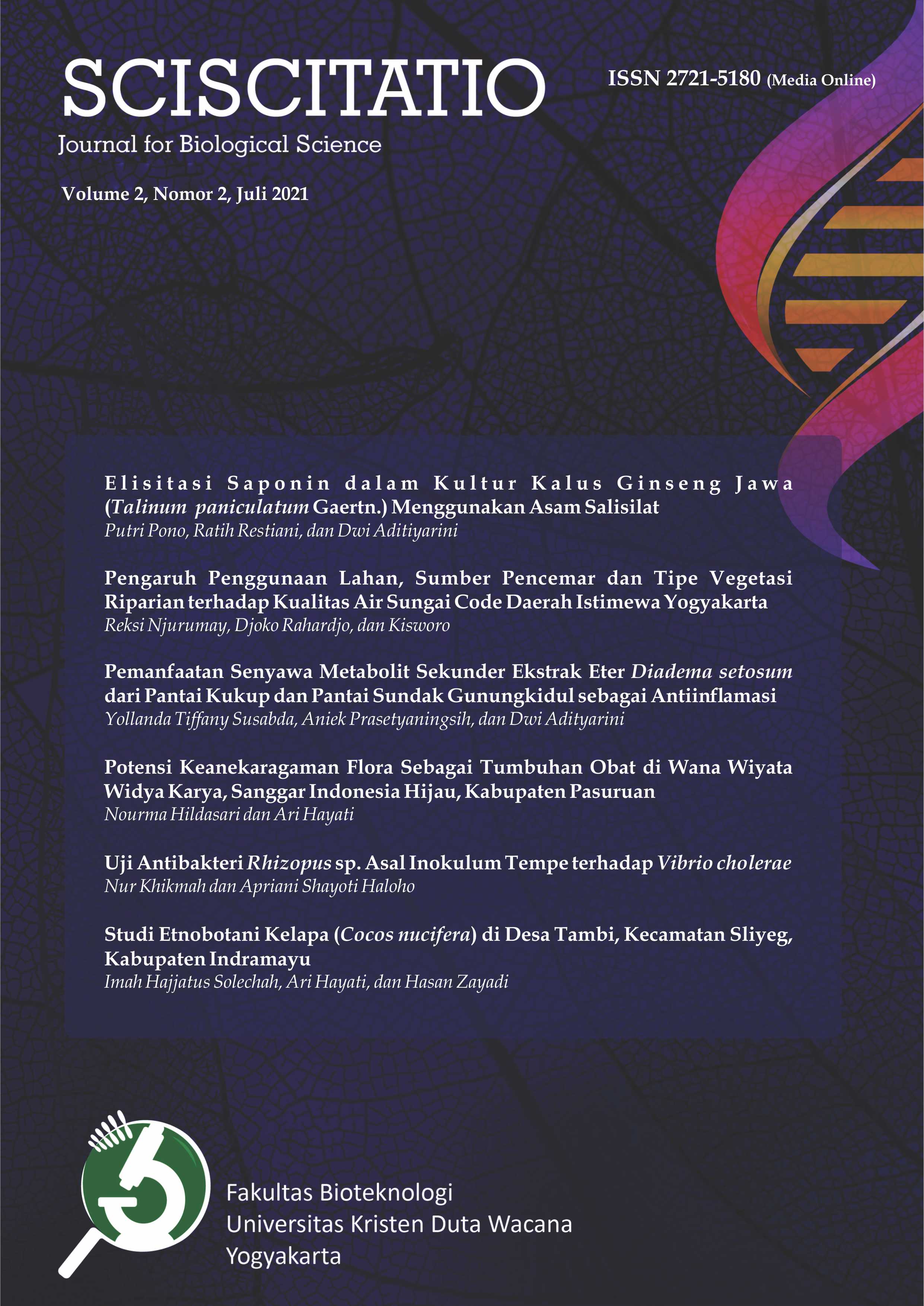 Downloads
How to Cite
Pono, P., Restiani, R., & Adityarini, D. (2021). Elisitasi Saponin dalam Kultur Kalus Ginseng Jawa (Talinum paniculatum Gaertn.) Menggunakan Asam Salisilat. SCISCITATIO, 2(2), 45–53. https://doi.org/10.21460/sciscitatio.2021.22.66
License
Copyright (c) 2021 THE AUTHOR(S)
This work is licensed under a Creative Commons Attribution-ShareAlike 4.0 International License.