Pemanfaatan Senyawa Metabolit Sekunder Ekstrak Eter Diadema setosum dari Pantai Kukup dan Pantai Sundak Gunungkidul sebagai Antiinflamasi
Keywords:
metabolit sekunder, Diadema setosum, antiInflamasi, Pantai Sundak, Pantai Glagah, penyempitan luka
Abstract
Bulu babi atau landak laut merupakan hewan laut yang tergolong dalam kelas Echinoidea. Kelompok
hewan dari kelas Echinoidea mempunyai kemampuan menghasilkan metabolit sekunder yang memiliki efek
farmakologis seperti antibakteri, antitumor dan kanker, antioksidan, dan antiinflamasi. Salah satu metabolit
sekunder dari yang dihasilkan oleh hewan dari kelompok Echinoidea adalah Ovothiol-A yang berpotensi
sebagai antiinflamasi. Penelitian ini bertujuan untuk mempelajari metabolit sekunder dari Diadema setosum
yang berasal dari Pantai Selatan Gunungkidul dan studi potensinya sebagai antiinflamasi. Hasil uji KLT dan
FTIR menunjukkan bahwa spesies Diadema setosum sebagai salah satu anggota Echinoidea diduga mengandung
senyawa Ovothiol-A pada bagian organ maupun cangkangnya. Senyawa diduga sebagai Ovothiol-A yang
dihasilkan oleh D. setosum memiliki kemampuan antiinflamasi yang ditunjukkan oleh penyempitan luka
pada mencit yang diberi perlakuan ekstrak bagian organ (100%) D.setosum dengan rata-rata penyempitan
luka 0,44±0,256 mm/hari. Hasil dari penelitian ini menunjukkan bahwa ekstrak D. setosum memiliki senyawa
Ovothiol-A yang dapat berfungsi sebagai antiinflamasi. Ekstrak D. setosum bagian organ memiliki kemampuan
antiinflamasi yang lebih baik.
References
Anonim.(2020). Ovothiol A. National Center for Biotechnology Information Retrieved from PubChem: https://pubchem.ncbi.nlm.nih.gov/compound/Ovothiol-A. diakses 13 November 2020
Aprilia, Ayu, H., Pringgenies, D., & Yudiati, E. (2012). Uji Toksisitas Ekstrak Kloroform Cangkang dan Duri Landak Laut (Diadema setosum) terhadap mortalitas Nauplius asrtemia sp. Journal of Marine Reasearch, 1(1), 75-83.
Arief, H & Widodo, A, M. (2016). Peranan S t r e s s O k s i d a t i f P a d a P r o s e s Penyembuhan Luka. Jurnal Ilmiah Kedokteran Wijaya Kusuma, 5(2), 22-29.
Aziz, A. (1993). Beberapa Catatan tentang Perikanan Bulu Babi. Oseana, 18 (2), 65-75. Dachriyanus. (2004). Analisis Struktur Senyawa Organik Secara Spektroskopi. Padang: Lembaga Pengembangan Teknologi Informasi dan Komunikasi (LPTIK) Universitas Andalas.
Darsono, P & Aziz, A. (1979). Reproduksi bulu babi, Diadema setosum di daerah gugus Pulau Pari, Pulau-pulau Seribu, Jakarta. Prosiding Kongres Nasional Biologi IV. Bandung, 10
Devices, R. (2017). TLC Amino Acids. Retrieved from REACH Devices Made in USA: http://www.reachdevices.com/TLC_aminoacids.html. diakses 13 November 2020
Evi, M., Alimuddin, A. H., & Destiarti, L. (2015). Pemanfaatan Ekstrak Landak Laut (Diadema setosum) dari Pulau Lemukutan Sebagai Antijamur Candida albicans. Jurnal Kimia Khatulistiwa, 4(4).
Karmilah, & Badia, E. (2019). Pengaruh Bentuk Sediaan Ekstrak Gonad Landak Laut (Diadema setosum) Sebagai Penyembuh Luka Bakar pada Kelinci (Oryctolagus cuniculus). Window Of Health, 65.
Marimutuhu, K., Gunaselvam, P., Rahman, M. A., & Savier, R. (2015). Antibacterial activity of Ovary Extract From Sea Urchin Diadema setosum. European Review for Medical and Pharmacological Sciences, 1895-1899.
Pelczar, M. J & Chan, E. C. (1988). Dasar-Dasar Mikrobiologi. Jakarta: Universitas Indonesia Press.
Rahman, G. A & Kassab, N. H. (2003). Neomycin sulfate: A new antifungal and antiadherent agent against Candida albicans cells on heat–cured acrylic resin denture base material. An in vitro study. Al-Rafidain Dental Journal, 139-142.
Rompis, B. R., Langoy, M. L .D., Katili, D. Y & Papu, A. (2013). Diversitas Echinodermata di Pantai Meras Kecamatan Bunaken Sulawesi Utara. Bioslogos, 3(1), 26-31.
Shamsudin, Hakim, L., Kumari, & Noraznawati. (2010). Anti-Bacterial Activity of Three Species Of Sea Urchin Extracts from Pulau Bidong, Terengganu. Journal of Sustaibility Science and Management, 5(1), 116-124.
Shankarlal, S., Prabu, K., & Natarajan, E. (2011). Antimicrobial and Antioxidant Actyvity of Purple Sea Urchin Shell (Salmacis virgulata L. Agassiz and Desor 1846). American-Eurasian Journal of Scientific Research, 178-181.
Susanto., Sudrajat, D., & Ruga, R. (2012). Studi kandungan bahan aktif tumbuhan meranti merah (Shorea leprosula Miq) sebagai sumber senyawa antibakteri. Mulawarman Scientific, 11(2), 181-190.
Turner, E., Hager, L., & Shapiro, B. (1988). O v o t h i o l r e p l a c e s g l u t a t h i o n e peroxidase as a hydrogen peroxide scavenger in sea urchin eggs. Science 242, 939-941.
Widiyantoro, A., Lia D., Indri K., Supardi, Dedy G. H., & Niwick. (2012). Aktivitas Antiinflamsi Senyawa Bioaktif dari Kulit Batang Pauh Kijang (Irvingia malayana Oliv. Ex. A. Benn) Terhadap Tikus Putih (Rattus norvegicus) yang Diinduksi Karagenan. Kaunia 8(2):118- 126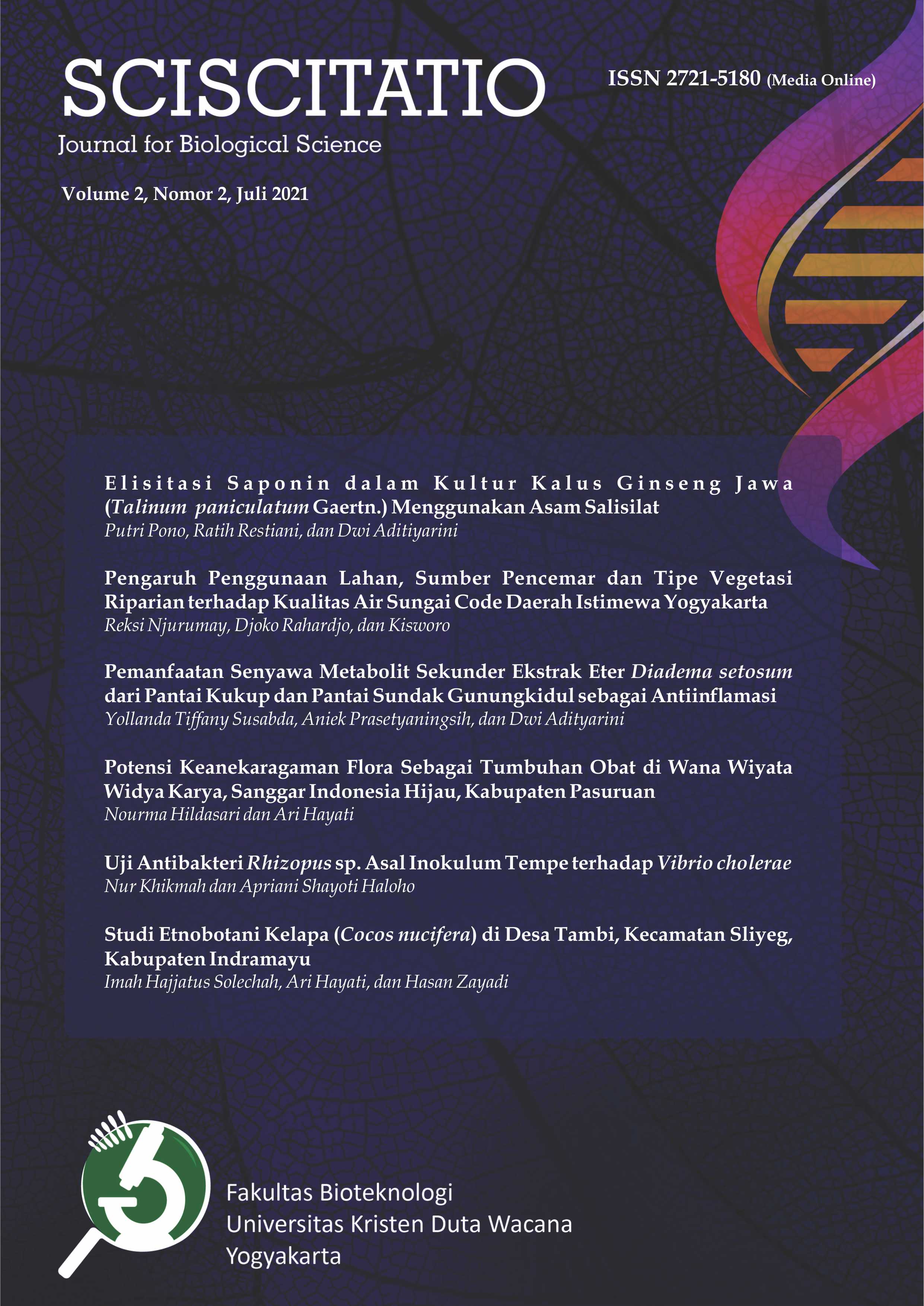 Downloads
How to Cite
Tiffany, Y., Prasetyaningsih, A. ., & Aditiyarini, D. (2021). Pemanfaatan Senyawa Metabolit Sekunder Ekstrak Eter Diadema setosum dari Pantai Kukup dan Pantai Sundak Gunungkidul sebagai Antiinflamasi. SCISCITATIO, 2(2), 66–73. https://doi.org/10.21460/sciscitatio.2021.22.68
License
Copyright (c) 2021 THE AUTHOR(S)
This work is licensed under a Creative Commons Attribution-ShareAlike 4.0 International License.