Kadar Logam Berat Timbal (Pb) pada Lipstik yang diperjualbelikan di Pasar Demangan Yogyakarta
Keywords:
Timbal, Lipstik, Pasar Demangan dan Atomic Absorption Spectroscopy
Abstract
Timbal (Pb) merupakan logam berat yang bersifat toksik bagi manusia. Cemaran timbal banyak dijumpai
pada makanan, minuman dan kosmetik seperti lipstik. Dari beragam merk lipstik yang beredar di pasaran,
terdapat beberapa merk yang tidak memiliki izin edar yang dikeluarkan oleh BPOM. Lipstik ilegal seperti ini
banyak mengandung cemaran timbal. Penelitian ini bertujuan untuk mempelajari kandungan timbal dalam
lipstik yang dijual di Pasar Demangan Yogyakarta. Pengambilan sampel lipstik berasal dari pedagang di dalam
dan luar area Pasar Demangan. Sampel lipstik yang dianalisis dalam penelitian ini berasal dari 5 merk berbeda
dengan pilihan warna lipstik adalah merah dan merah muda untuk masing-masing merk. Analisis sampel
lipstik untuk setiap merk dan warna menggunakan 5 ulangan. Deteksi timbal dilakukan dengan metode Atomic
Absorption Spectroscopy (AAS). Hasil uji AAS menunjukkan bahwa lipstik yang paling banyak mengandung
Pb terdapat pada kode sampel LEP dengan kadar 3,37 mg/L, sedangkan lipstik yang sedikit mengandung
Pb terdapat pada kode sampel LAP dengan kadar 2,24 mg/L. Lipstik yang di jual di Pasar Demangan layak
untuk di gunakan oleh konsumen karena kadar timbal yang ada pada lipstik belum melebihi standar BPOM.
References
Agoes, G. (2015). Sediaan Kosmetik (SFI-9). Bandung: ITB Press.
Agustina, K.L. (2017). Deteksi Kandungan Timbal pada Lipstik yang di Jual di Pasar Legi Jombang dengan Metode Spektrofotometri Serapan Atom (SSA). Karya Tulis Ilmiah. Jombang: STIKes Insan Cendekia Medika
BPOM RI. (2014). Peraturan Kepala Badan Pengawas Obat dan Makanan Republik Indonesia Nomor 17 Tahun 2014 tentang Perubahan atas Peraturan Peraturan Kepala Badan Pengawas Obat dan Makanan Nomor HK.03.1.23.07.11.6662 Tahun 2011 Tentang Persyaratan Cemaran Mikroba dan Logam Berat dalam Kosmetika. Departemen Kesehatan Republik Indonesia, Jakarta
Brown. V. J. (2013). 'Metals in Lip Products - A Cause for Concern?'. Environment Health Perspect,121.
Effendi, N., Pratama, M., & Kamaruddin, H. (2014).Analisis Kandungan Logam Berat Merkuri (Hg) dan Timbal (Pb) pada Kosmetik Lipstik yang Beredardi Kota Makassar dengan Metode Spektrofotometri Serapan Atom.Jurnal AsSyifaa, 6(1):84.
Fauziah., A.M & Adriani, A. (2020). Analysis of Heavy Metal Pollution (Pb) in Lipstick are for Sale in The City of Banda Aceh by Using Atom Absorption Spectrophotometry. Banda Aceh. Journal Of Pharmaceutical and Sciences (Jps).
Fernier, D.J. (2001). Assessment of Some Heavy Metals in Facial Cosmetic Products. eMed Journal, 2(5):1-7.Food and Drug Administration, (2011), FDA Drug Safety Communication: Low magnesium levels can be associated with long-term use of Proton Pump Inhibitor drugs (PPIs), U.S. Department of Health and Human Services.
Gao, P., Liu, S., Zhang, Z., Meng, P., Lin, N., Lu, B., Cui, F., Feng, Y., & Xing, B. (2014). Health Impact of Bioaccessible Metal in Lip Cosmetics to Female College Students and Career Women, Northeast of China. Enviromental Pollution, 197: 214-220.
Linder, M. C. (1992). Biokimia nutrisi dan metabolisme dengan pemakaian secara Klinis. Jakarta: Penerbit Universitas Indonesia.
Liu, S., Hammond, S.K., & Rojas-Cheatham, A. (2013). Concentrations and potential health risks of metals in lip products. Environmental Health Perspectives, 121:705–710.
Massadeh, A. M., El-khateeb, M. Y., & Ibrahim, S. M. (2017). Evaluation of Cd, Cr, Cu, Ni, and Pb in selected Cosmetic Products from Jordanian, Sudanese, and Syrian markets. Public Health, 149: 130-137
Utomo, T. A. T., 2005. Health Quotient Cerdas Kesehatan untuk Eksekutif.PT Grasindo. Jakarta,
Ziarti, P. (2012). Risk Assesment of Heavy Metal Contents (Lead and Cadmium) in lipstick in iran. International Journal of Chemical Engineering and Applications: 3(6):450-452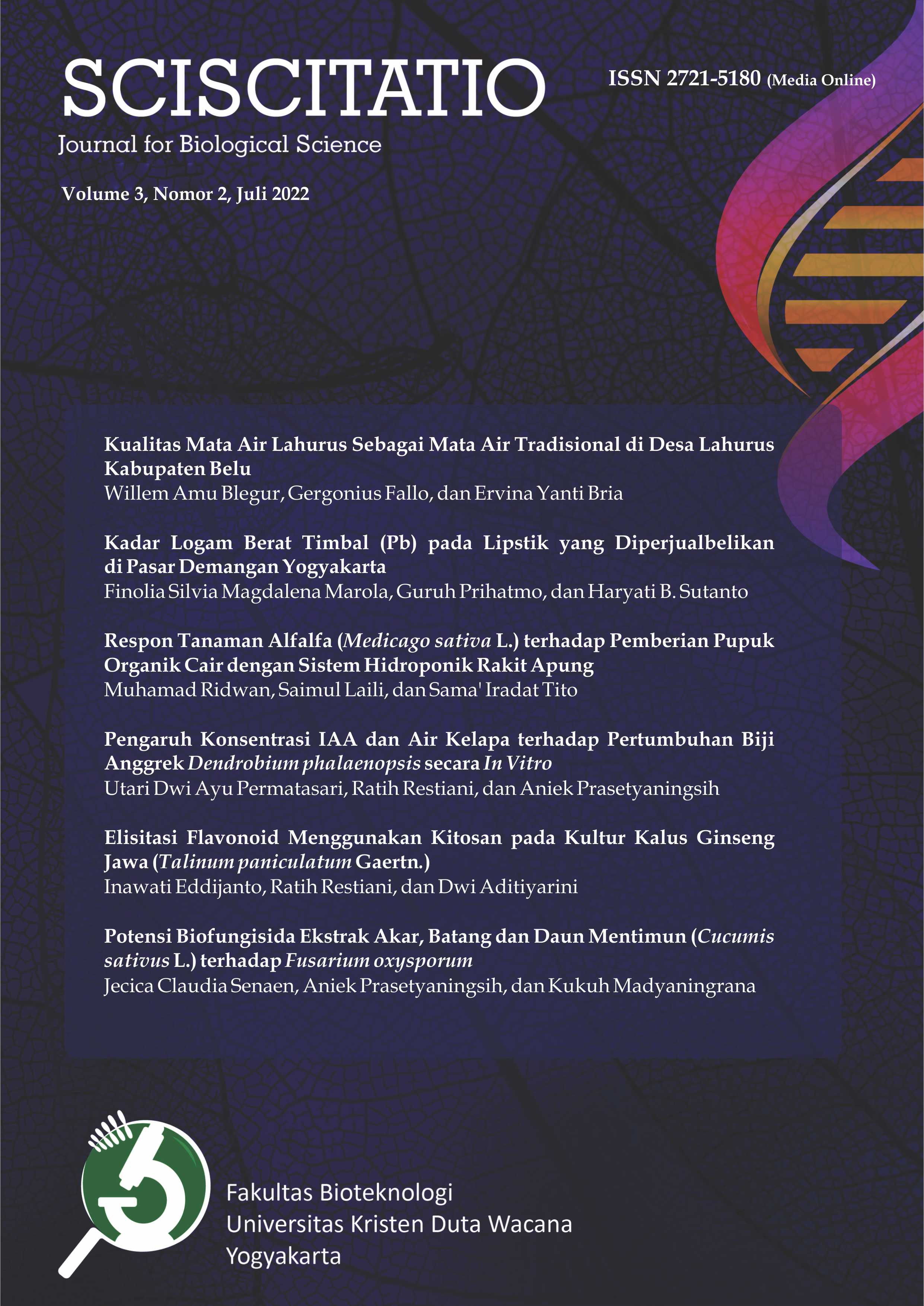 Downloads
How to Cite
Marola, F. S. M. ., Prihatmo, G. ., & Sutanto, H. B. . (2022). Kadar Logam Berat Timbal (Pb) pada Lipstik yang diperjualbelikan di Pasar Demangan Yogyakarta. SCISCITATIO, 3(2), 62–67. https://doi.org/10.21460/sciscitatio.2022.32.98
License
Copyright (c) 2022 THE AUTHOR(S)
This work is licensed under a Creative Commons Attribution-ShareAlike 4.0 International License.