Variasi Konsentrasi Saccharomyces cerevisiae dalam Pembuatan Wine Buah Dilak (Limonia acidissima)
Keywords:
Limonia acidissima, wine, kadar alkohol, nilai pH, tes organoleptik
Abstract
Buah Dilak (Limonia acidissima) digemari oleh masyarakat Nusa Tenggara Timur karena  rasanya yang manis dan aromanya yang harum. Kulit buah Dilak juga dimanfaatkan oleh  masyarakat sebagai wadah untuk mengambil air. Karakteristik buah Dilak yang manis dengan  aroma yang harum berpotensi digunakan sebagai bahan dasar fermentasi minuman beralkohol seperti wine. Penelitian ini bertujuan untuk menganalisis pengaruh variasi konsentrasi inokulum Sacharomyces  cerevisiae terhadap kualitas wine buah Dilak (L. acidissima). Metode yang digunakan dalam penelitian ini  adalah metode eksperimental untuk mengukur konsentrasi alkohol menggunakan vinometer, pengukuran  pH, dan uji organoleptik wine hasil fermentasi buah Dilak. Hasil penelitian menunjukkan bahwa semakin  tinggi konsentrasi S. cerevisiae yang digunakan dalam fermentasi maka semakin tinggi kadar alkohol yang  terbentuk pada wine buah Dilak. Hasil penelitian juga menunjukkan bahwa alkohol yang terdapat pada wine buah Dilak berkisar antara 13,3%-23,3 % dengan nilai pH berkisar antara 3 - 4. Hasil uji organoleptik panelis  terhadap wine buah Dilak berdasarkan parameter warna, rasa, dan aroma menunjukkan persentase kesukaan  tertinggi pada wine yang dihasilkan dari perlakuan P2 dengan konsentrasi S.cerevisiae 2%
References
Arjuan, H. (2008). Aplikasi Pewarna Bubuk Ekstrat Umbi Bit (Beta vulgari) Sebagai Pengganti Pewarna Tekstil Pada Produk Terasi Kabupaten Berau Kalimantan Timur. Skripsi. Bogo : Fakultas Perikanan Dan Kelautan, Institut Pertanian Bogor.
Ayustaningwarno, F. (2014). Teknologi Pangan; Teori dan Aplikasi. Yogyakarta; Graha Ilmu
Brady, J. E. (1999). Kimia Universitas atas dan Struktur Jilid 1. Jakarta; Binarya Aksara
Jackson, R. S. (2008). Wine Science: Principles And Applications, 3rd. ed. Elsevier Acad. Press, Amsterdam.
Lamani, S., Anu-Appaiah, K.A., Murthy, H.N., Dewir, Y.H., & Rikisahedew, J.J. (2022). Analysis of Free Sugars, Organic Acids, and Fatty Acids of Wood Apple (Limonia acidissima L.) Fruit Pulp. Horticulturae, 8(1):67.
Lohenapessy, S., Gunam, I.B.W., & Arnata, I.W. (2017). Pengaruh Berbagai Merk Dried Yeast (Saccharomyces sp.) dan pH Awal Fermentasi Terhadap Karakteristik wine Salak.Jurnal Teknologi & Industri Hasil Pertanian, 22(2): 63-72.
Ovyhapsani, R.A., Mustofa, A., & Suhartatik, N. (2019). Karakteristik Minuman Beralkohol dengan Variasi Kadar
Ekstrak Buah Bit (Beta vulgaris L) dan Lama Fermentasi. Jurnal Teknologi dan Industri Pangan, 3(1): 55–63.
Pratiwi, V. (2013). Pengujian angka kapang/khamir pada roti di pasaran. Skripsi. Fakultas Farmasi. Universitas Sumatera Utara.
Rai, A. K., Prakash, M., & Appaiah K. A.A. (2010). Production of Garcinia wine; changes in biochemical parameters, organic acids an free sugars during fermentation of Garcinia must. International journal of food Science and Technology 45;1330-1336
Reddy L. V. A & Reddy, O. V. S. (2005). Production and Characterization of wine from mango fruit (Mangifera L). Journal of Microbiology and Technology , 21: 1345-1350.
Rathore, N., Gupta, P.K, Rathour, S.S., & Lekhi, R. (2021). Nutra-Chemical and Organoleptic Quality Evaluation of Wood Apple (Limonia acidissima L.) Pickle. International Journal of Plant & Soil Science, 33(22): 80-86
Setyaningsih, D., Anton, A., & Maya, P.S. (2010). Analisis Sensori untuk Industri Pangan dan Agro. Bogor. IPB Press.
Vijayakumar, A., Kumar P.P., Jeyaraj, B. (2013). Antioxidant activity of lllicium graffiti hook, F, & Thoms seed- in vitro. Asian Journal of Pharmaceutical and Clinical Research, 6(2):269-2735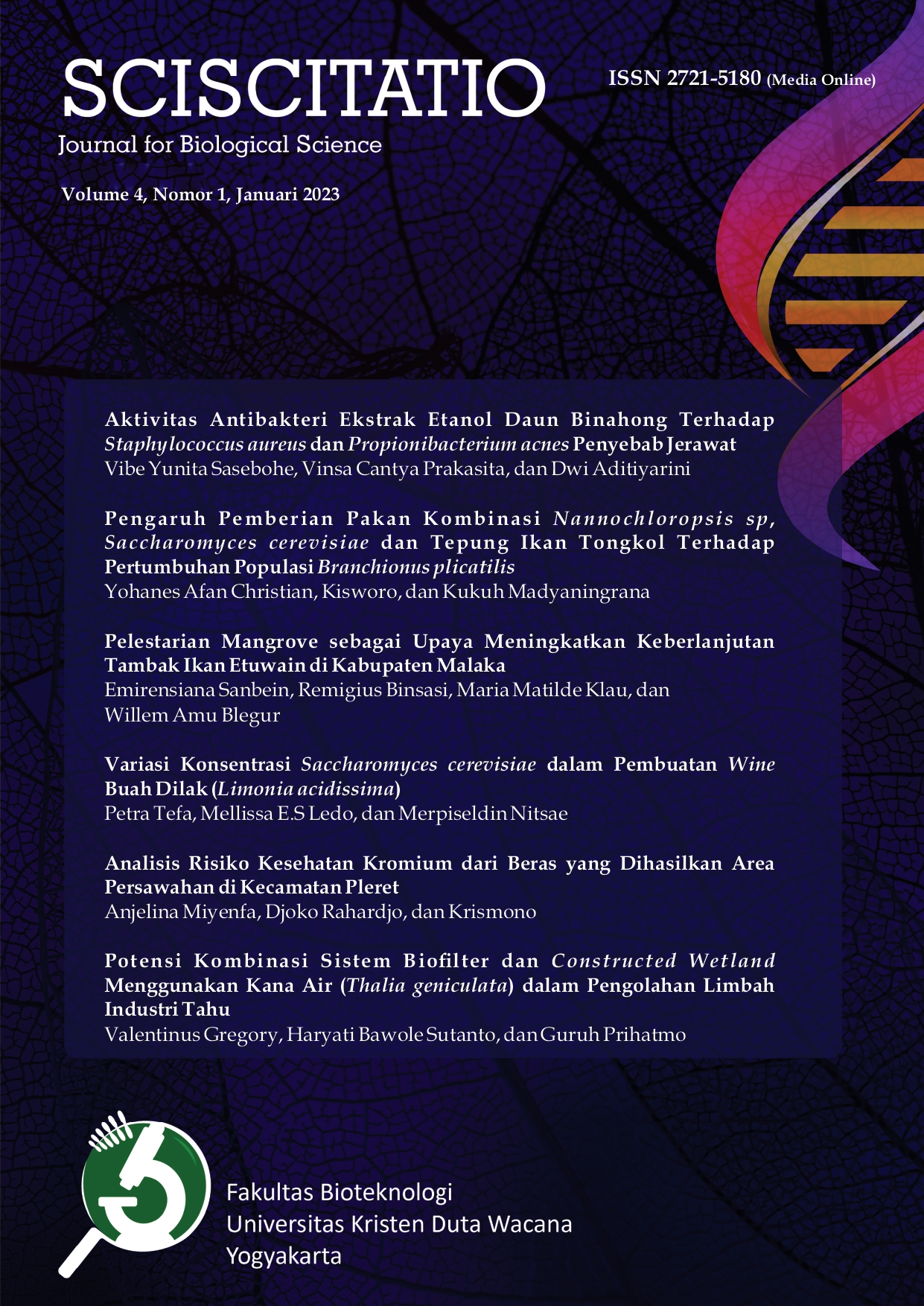 Downloads
How to Cite
Tefa, P. ., Ledo, M. E. S. ., & Nitsae, M. . (2023). Variasi Konsentrasi Saccharomyces cerevisiae dalam Pembuatan Wine Buah Dilak (Limonia acidissima). SCISCITATIO, 4(1), 32–38. https://doi.org/10.21460/sciscitatio.2023.41.112
License
Copyright (c) 2023 THE AUTHOR(S)
This work is licensed under a Creative Commons Attribution-ShareAlike 4.0 International License.